In the vast tapestry of human energy, the red aura shines with a fiery intensity that cannot be ignored. Like a roaring flame, it represents a powerful force within us – our passions and energy.
But just as fire can be both destructive and transformative, so too can the red aura. In this article, we delve into the depths of understanding and balancing this vibrant hue, exploring ways to harness its power and find harmony within ourselves.
Join me on this journey of self-discovery as we explore the world of the red aura and unlock its hidden potential.
Key Takeaways
A red aura signifies strong will, passion, and energy.
Crystals like Red Jasper, Carnelian, and Garnet can help balance a red aura.
Seeking professional help from energy healers can aid in balancing a red aura.
Practices like yoga, meditation, and spending time in nature can help balance a red aura.
What Does Red Aura Mean?
I know that a red aura signifies strong will, passion, and energy. When interpreting red aura meaning, it's important to understand that it represents powerful emotions like anger and excitement.
This vibrant aura is a reflection of our physical energy, stamina, and vitality. It also represents determination and strength, showing our unwavering commitment to our goals.
Red aura can sometimes be overwhelming, but it can also be harnessed and balanced. Understanding the connection between red aura and emotions is key to finding harmony within ourselves.
By acknowledging and embracing our passionate nature, we can channel this energy in a positive way. It's important to explore the unique abilities of crystals like Red Jasper, Carnelian, and Garnet, as they can help release negative emotions and enhance our courage and creativity.
Seeking professional help from energy healers and aura cleansing practitioners can provide guidance and support, leading us to a balanced and fulfilled life.
Balancing with Crystals
Exploring the power of crystals can provide a harmonizing effect on the fiery energy within. Using crystals for healing has been a transformative journey for me in balancing my red aura.
The unique properties of different crystals have helped me tap into my inner strength and find emotional equilibrium. Here are five crystals that have been particularly beneficial:
Red Jasper: Its grounding and protective qualities have released feelings of shame and enhanced my courage.

Carnelian: This crystal has increased my vitality and stimulated my creativity, allowing me to channel my passion into productive endeavors.

Garnet: By grounding my energy and promoting emotional balance, garnet has helped me find stability in my strong emotions.

Ruby: The vibrant energy of ruby has brought passion and vitality into my life, igniting my inner fire.

Bloodstone: This crystal has helped me release stress and find emotional clarity, allowing me to harness my energy in a balanced way.
Exploring the properties of these crystals and incorporating them into my daily practices has been a powerful tool in balancing my red aura.
Seeking Professional Help
Seeking professional help is essential for understanding and addressing any imbalances within my aura. A reputable energy healer or aura cleansing practitioner can provide the guidance and support needed to navigate through the complexities of my energy field. By researching their qualifications, education, and reviews, I can find a practitioner who resonates with me and can offer long-term balance through personalized guidance and workshops.
When it comes to balancing my red aura, the benefits of energy healing cannot be overstated. Their personalized sessions and techniques like chakra balancing, Reiki, and meditation can help me release any negative blocks that hinder my growth and emotional clarity. With their expertise, I can harness the power of my red aura and channel my passion and energy in a balanced and productive way.
Frequently Asked Questions
Can a red aura indicate a person's level of physical health and vitality?
A red aura can indicate a person's physical health and vitality. It represents strong emotions and energy, which can affect relationships. By understanding and balancing the red aura, we can enhance overall well-being.
Is it possible for a red aura to manifest as both passion and anger?
Yes, it is possible for a red aura to manifest as both passion and anger. Balancing these emotions is crucial for emotional energy management. By understanding and managing our emotions, we can achieve a healthy balance and harness our passion effectively.
How can someone determine if they have a red aura?
To determine if you have a red aura, look for signs and symptoms like strong will, passion, and energy. Self-reflection is key. Balancing a red aura can be done through meditation and grounding techniques, no crystals or professional help required.
Are there any negative aspects associated with a red aura?
Negative emotions can impact a red aura, causing imbalances and blockages. However, within a red aura, there is also potential for healing and transformation. It is important to address and release negative emotions to maintain a harmonious and vibrant red aura.
Can a red aura be balanced without the use of crystals or professional help?
Yes, a red aura can be balanced without the use of crystals or professional help. By incorporating balancing techniques such as yoga, meditation, deep breathing, and self-care practices, one can find harmony and release excess energy or tension.
Conclusion
As I reflect on my journey to understand and balance my red aura, I am reminded of a roaring fire that burns within me. This fire, filled with passion and energy, has the power to ignite my desires and propel me forward.
However, like any fire, it must be tended to carefully, for if left unchecked, it can consume and overwhelm. Through the guidance of energy healers and the use of crystals, I have learned to harness this fiery energy and channel it towards my goals.
Just as a skilled firekeeper tends to the flames, I have learned to balance my red aura, finding harmony between strength and calm, passion and serenity. It is through this delicate dance that I have found emotional clarity, career growth, and a life that is in balance and harmony.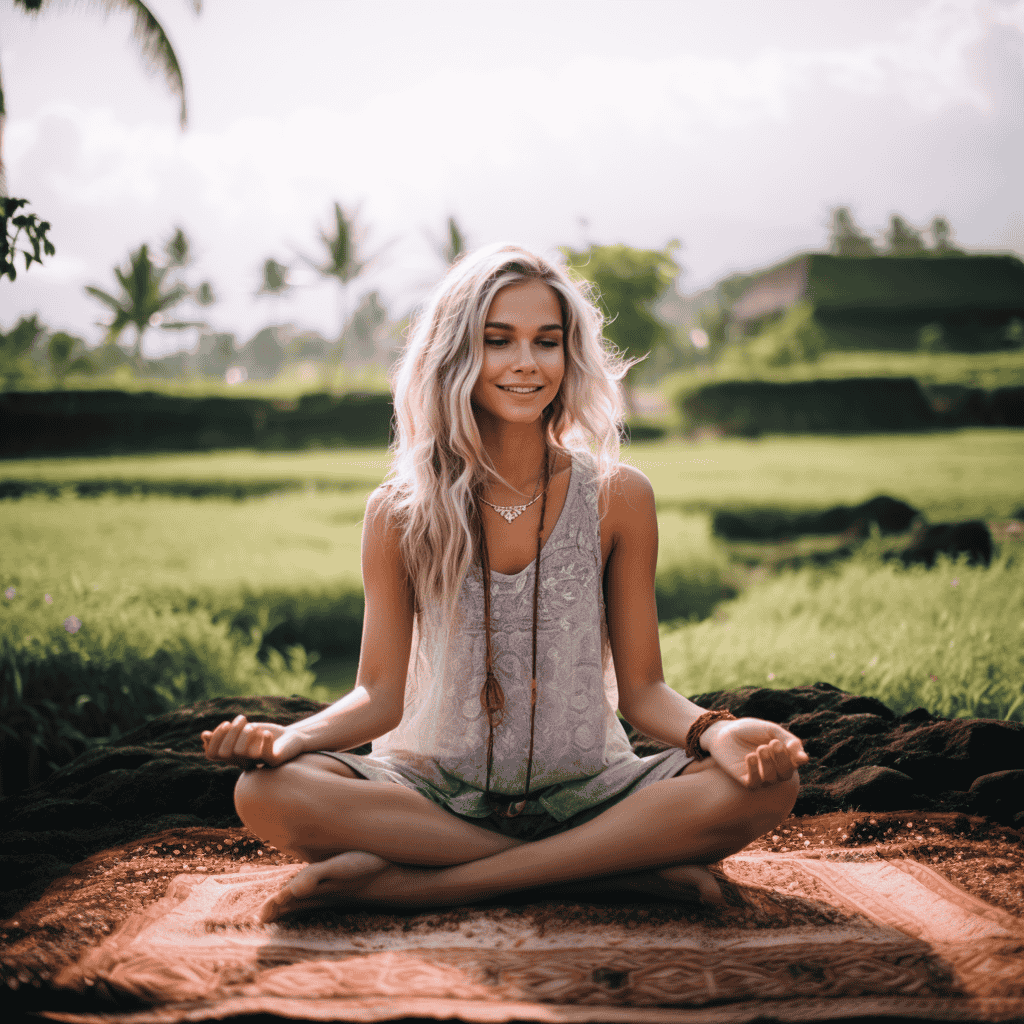 Meet Nadi, the soulful writer and explorer of inner realms who graces OurMindAndBody.com with her profound insights and heartfelt wisdom. With a profound passion for mindfulness, meditation, and spiritual growth, Nadi weaves words that touch the hearts and minds of readers, leaving a lasting impact on their well-being journey.
Rooted in a background of philosophy and psychology, Nadi's curiosity about the human mind and the mysteries of the soul led her on a transformative path of self-discovery. Drawn to the transformative power of mindfulness and meditation, she embarked on a quest to understand the intricacies of these practices, not only for her own growth but also to inspire others to embark on their own inner journeys.