Imagine a mystical world where colors reveal the essence of our souls. In this realm, auras are the vibrant manifestations of our spiritual energy, each unique and telling a story.
Among these ethereal hues, one stands out as the rarest of them all: the white aura. With its pure and luminous glow, the white aura signifies an unparalleled connection to the Divine, spiritual enlightenment, and the gift of healing.
Join me on a journey as we unveil the mystical essence of the rarest aura color, the white aura.
Key Takeaways
The rarest aura color is considered to be white or clear.
A white aura represents high spirituality, purity, and enlightenment.
Clear aura, also known as crystal aura, is rare and seen in those who have undergone extensive spiritual development.
Aura color can change based on emotional, physical, and spiritual states.
What is it?
The rarest aura color is the white aura. It represents high spirituality, purity, and enlightenment. It signifies a strong connection to the Divine or higher power. The power of the white aura lies in its spiritual significance and healing abilities.
Those with a white aura are gifted in healing and possess advanced spiritual development. Their aura exudes a sense of purity and enlightenment, showcasing their deep connection to the Divine. The white aura is associated with clarity and deep spiritual understanding. It unveils the mystery of the universe and grants individuals a profound sense of wisdom.
It is believed that the color of one's aura can change based on emotional, physical, and spiritual states. Understanding the factors that can influence the color of your aura is key to unlocking its mystical essence.
Significance and Meaning
Have you ever wondered about the profound significance and deep meaning behind the elusive and ethereal hue that embodies spiritual enlightenment? The white aura, with its rare and radiant essence, holds great symbolism and offers profound insight into one's spiritual journey. Understanding the spiritual significance of the white aura can illuminate the path towards higher consciousness and divine connection.
The white aura represents purity, clarity, and transcendence. It signifies a deep spiritual awakening and an unwavering devotion to the Divine. Those with a white aura are believed to possess advanced spiritual knowledge and wisdom. Their presence exudes a sense of calmness and serenity, uplifting those around them and radiating healing energy.
In the realm of aura colors, the white aura stands as a beacon of spiritual light, guiding seekers towards enlightenment. Its mystical essence invites us to explore the depths of our own spirituality and embrace the divine within ourselves. The white aura is a reminder that we are divine beings on a sacred journey, and that the path to enlightenment is within our reach.
Factors that Influence Aura Color
Exploring the factors that shape my aura's hue, I find that emotional, physical, and spiritual states all play a role in its ever-changing color. Understanding the aura's energy flow is crucial in comprehending how these factors influence its color. The table below highlights the main factors that can impact the color of an aura:
| Factor | Influence on Aura Color |
| --- | --- |
| Emotions | Strong emotions such as anger or love can result in a change of aura color. |
| Physical Health | Illness or physical well-being can affect the aura's color. |
| Spiritual Development | Advancement in spiritual practices can lead to a shift in aura color. |
As we navigate through life, our emotions, physical health, and spiritual growth intertwine, shaping our aura's color. It is fascinating to witness how these factors interact and influence the energy we emit. By understanding the dynamics of aura color, we can gain valuable insights into our own well-being and spiritual journey.
Frequently Asked Questions
Can a person have more than one aura color?
Yes, a person can have more than one aura color. Exploring the significance of multiple aura colors in personal growth and enlightenment is fascinating. The impact of environmental factors on aura color manifestation adds an interesting dimension to understanding our spiritual selves.
Is it possible for someone's aura color to change over time?
Yes, it is possible for someone's aura color to change over time. Emotional healing can have a profound impact on aura color, as it allows for the release of negative energy. Additionally, meditation plays a significant role in aura color transformation by promoting spiritual growth and balance.
Are there any specific personality traits associated with a white aura?
A white aura is associated with purity, spirituality, and enlightenment. People with a white aura are often drawn to careers that involve healing, counseling, and spiritual guidance. In relationships, they prioritize deep connections and shared spiritual values.
Can a person with a white aura still possess psychic abilities or spiritual sensitivity?
Like a rare pearl glistening in the sunlight, individuals with a white aura possess psychic abilities and spiritual sensitivity. The white aura signifies a profound connection to the Divine, enhancing spiritual development and growth.
How can someone determine their own aura color without the help of an aura reader or spiritual coach?
Determining your own aura color without the help of an aura reader or spiritual coach requires self reflection and meditation techniques. By quieting the mind, focusing inward, and observing the energy around you, you can begin to sense and understand your own aura color.
Conclusion
In conclusion, the white aura is not just rare, it is the epitome of spiritual magnificence. Its mystical essence transcends the ordinary, shining with the brilliance of divine connection and purity.
Those blessed with this extraordinary aura possess a power beyond comprehension, gifted in healing and spiritually advanced. Their journey of extensive spiritual development has led them to unparalleled enlightenment.
The white aura, like a rare gem, illuminates the path to the highest level of consciousness and unlocks the depths of psychic abilities. It is a celestial phenomenon that leaves us in awe of its transcendent beauty.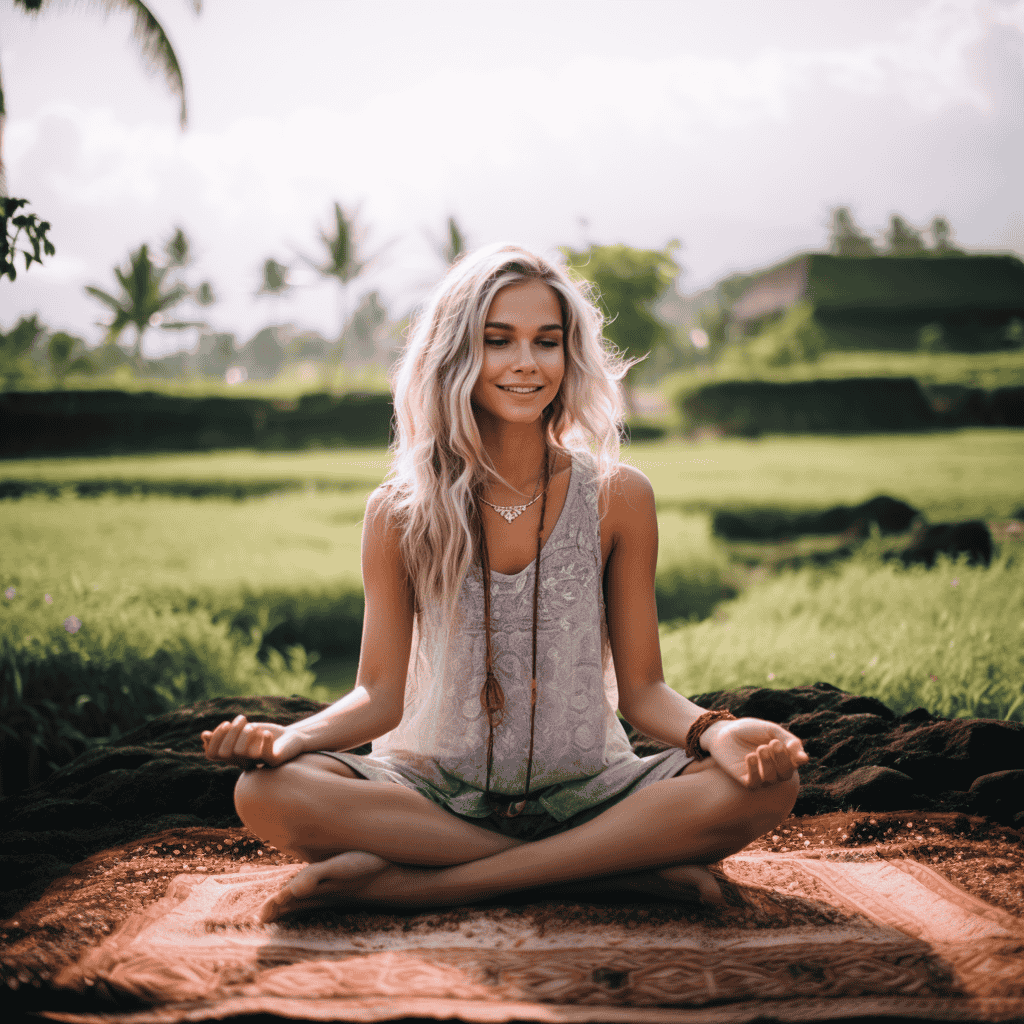 Meet Nadi, the soulful writer and explorer of inner realms who graces OurMindAndBody.com with her profound insights and heartfelt wisdom. With a profound passion for mindfulness, meditation, and spiritual growth, Nadi weaves words that touch the hearts and minds of readers, leaving a lasting impact on their well-being journey.
Rooted in a background of philosophy and psychology, Nadi's curiosity about the human mind and the mysteries of the soul led her on a transformative path of self-discovery. Drawn to the transformative power of mindfulness and meditation, she embarked on a quest to understand the intricacies of these practices, not only for her own growth but also to inspire others to embark on their own inner journeys.