Imagine stepping into a yoga studio, feeling calm and ready to flow. As you take your place on the mat, you notice something missing – the perfect yoga top. It's a crucial piece of your practice, providing comfort, breathability, and style.
In this ultimate guide, I will walk you through the process of finding the ideal yoga top. From top brands to important features, sizing options to care instructions, this guide has you covered.
Get ready to elevate your yoga experience with the perfect yoga top.
Key Takeaways
Different types of yoga tops include long sleeve tops, tank tops, French Terry tops, cover tops, and sleeveless tops.
Popular yoga top brands include C9 Champion, Marika, Hanes, and Under Armour.
When choosing a yoga top, it is important to consider factors such as breathable materials like polyester, nylon, and spandex, moisture-wicking properties, freedom of movement, sweat absorption, and stretchability.
To find the perfect fit, it is recommended to check size charts, take accurate measurements, consider tight or loose fit options, look for adjustable features, and find the perfect fit that enhances flexibility and body confidence.
Types of Yoga Tops
I've learned that there are various types of yoga tops to choose from. This includes long sleeve tops, tank tops, French Terry tops, cover tops, and sleeveless tops.
When it comes to popular yoga top brands, C9 Champion, Marika, Hanes, and Under Armour are some well-known names in the market.
It's essential to consider the right fabric for yoga tops. Breathable and moisture-wicking fabrics like polyester, nylon, and spandex are commonly used in yoga tops. These fabrics keep you comfortable during your practice by allowing for freedom of movement and helping to regulate body temperature through sweat absorption.
Additionally, these fabrics offer stretchability for enhanced flexibility.
When selecting a yoga top, it's important to choose one that suits your style and meets your specific needs for comfort and functionality.
Features to Consider
When considering features for yoga tops, it's important to prioritize breathability, moisture-wicking capabilities, stretchability, a comfortable fit, and a stylish design. These features ensure that you have the best possible experience during your yoga practice.
Different fabrics for yoga tops: Choosing the right fabric is crucial for comfort and performance. Look for materials like polyester, nylon, or spandex that offer breathability, moisture-wicking properties, and stretchability.
Best brands for plus size yoga tops: Finding the perfect yoga top is essential for all body types. Some of the best brands that offer plus-size options include C9 Champion, Marika, and Under Armour. These brands provide a wide range of sizes and styles to cater to different body shapes and sizes.
By considering these features and exploring different fabric options and brands, you can find the perfect yoga top that not only meets your functional needs but also makes you feel confident and stylish during your practice.
Sizing and Fit Options
To ensure a comfortable and flattering fit, it's important to explore the different sizing and fit options available for yoga tops. Finding the right size for your yoga top is crucial for a seamless yoga practice. It's essential to check size charts and take accurate measurements to ensure the best fit.
Some brands even offer plus-size options for those who require a larger size. When choosing the perfect fit for your yoga practice, consider the style you prefer, whether it's a tight or loose fit. Look for adjustable features like drawstrings or straps that allow you to customize the fit according to your preference.
Remember, a well-fitted yoga top provides freedom of movement and supports a comfortable yoga practice, so take the time to find the perfect fit for you.
Benefits of Yoga Tops
Wearing yoga tops during your practice can enhance flexibility and provide freedom of movement. Yoga tops are designed with features like stretchability and breathability, allowing you to move with ease and perform various poses without any restrictions.
These tops are made from moisture-wicking fabrics that help regulate body temperature and absorb sweat during intense workouts, keeping you comfortable and dry.
Additionally, yoga tops play a role in boosting body confidence. With their comfortable and stylish designs, they make you feel good about yourself, allowing you to focus on your practice without any self-consciousness.
The right yoga top can provide the support and comfort you need, giving you the confidence to push your limits and achieve your fitness goals.
Care Instructions and Designs
Taking proper care of your yoga tops is essential to ensure their longevity and maintain their vibrant colors and designs. To keep your yoga tops looking their best, follow the washing instructions provided on the label. Opt for machine washable or hand wash options, and avoid using harsh detergents or bleach.
After washing, it's best to air dry or tumble dry on low heat to prevent any damage to the fabric. By taking these steps, you can ensure that your yoga tops stay in great condition for a long time.
When it comes to designs, popular options include minimalist designs with simple details, as well as patterns like floral, geometric, and tie-dye. Choose a design that suits your style and makes you feel confident and comfortable during your yoga practice.
Frequently Asked Questions
Are yoga tops suitable for all body types and sizes?
Yes, yoga tops are suitable for all body types and sizes. There are various fabric options available, including stretchy and breathable materials. Plus size individuals can find the best yoga tops from brands that offer inclusive sizing options.
Can yoga tops be worn for activities other than yoga?
Yoga tops are like a second skin, offering versatility for any workout or activity. They provide unbeatable comfort and style in everyday wear, making them a must-have addition to your wardrobe.
How often should yoga tops be replaced?
Yoga tops should be replaced when they show signs of wear and tear, such as stretched out fabric or loss of elasticity. It's important to choose the right size by referring to the brand's size chart and taking accurate measurements.
Can yoga tops be worn without a sports bra?
Yes, yoga tops can be worn without a sports bra, but it depends on personal preference. While some prefer the added support of a sports bra, others find yoga tops alone to be comfortable. It's important to find the right fit that provides adequate support without a sports bra.
Are there any specific yoga top designs that are more suitable for certain yoga poses or activities?
Certain yoga top designs, such as racerback tanks or tops with built-in bras, provide better support for activities like inversions or high-intensity yoga. Popular brands like Lululemon and Athleta offer such designs made from moisture-wicking materials for optimal performance.
Conclusion
Well, who knew finding the perfect yoga top could be such an adventure! After diving into the world of yoga tops, exploring different brands, styles, and features, I must say I am thoroughly impressed.
These versatile and stylish pieces of clothing not only provide comfort and support during your yoga practice but also help regulate temperature and enhance flexibility. And let's not forget about the wide range of designs and colors available, allowing you to express your unique style.
So, go ahead and find your perfect yoga top, and may your yoga journey be both fashionable and fulfilling.
Namaste!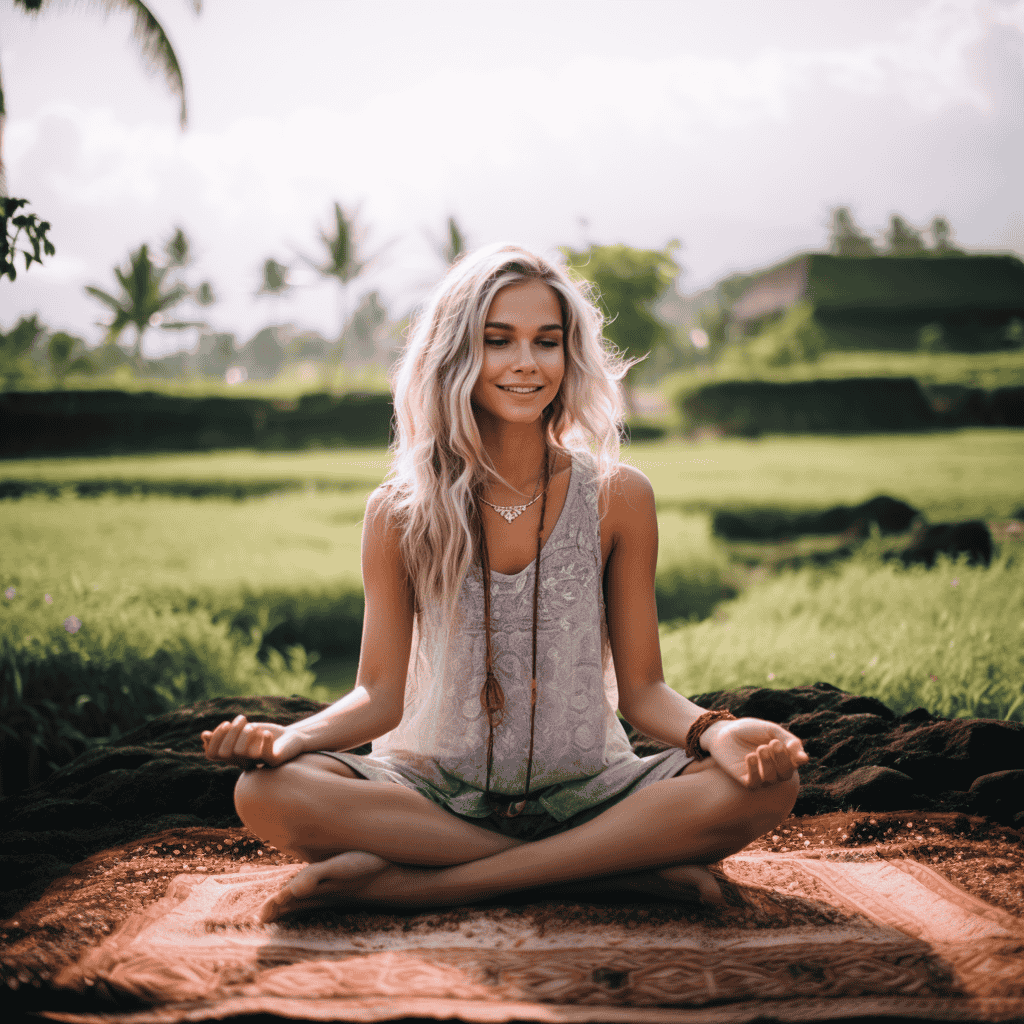 Meet Nadi, the soulful writer and explorer of inner realms who graces OurMindAndBody.com with her profound insights and heartfelt wisdom. With a profound passion for mindfulness, meditation, and spiritual growth, Nadi weaves words that touch the hearts and minds of readers, leaving a lasting impact on their well-being journey.
Rooted in a background of philosophy and psychology, Nadi's curiosity about the human mind and the mysteries of the soul led her on a transformative path of self-discovery. Drawn to the transformative power of mindfulness and meditation, she embarked on a quest to understand the intricacies of these practices, not only for her own growth but also to inspire others to embark on their own inner journeys.