As I lay there, the soft glow of candlelight casting shadows on the walls, I couldn't help but feel a sense of anticipation. My partner and I had embarked on a journey, a path to deepening our connection in a way we had never experienced before. We were about to embrace spiritual sex, a sacred practice that transcended the physical realm and promised a profound level of intimacy and personal growth. With mindful breathing, visualization, and the ancient wisdom of tantric sex, we were ready to unlock a world of pleasure and spiritual transformation.
Key Takeaways
Spiritual sex involves connecting beyond the physical level, practicing mindfulness, and using breathing exercises and visualization techniques.
It can lead to reduced stress, increased intimacy, and improved emotional connection.
Preparation for spiritual sex includes setting the intention, creating a distraction-free space, and considering personal readiness and comfort level.
Solo Tantra, or practicing spiritual sex alone, can also lead to self-awareness, personal growth, and a deeper sense of self.
What is Spiritual Sex?
I define spiritual sex as a way to connect with a partner beyond the physical level, incorporating mindfulness, breathing exercises, and visualization techniques to enhance intimacy and emotional connection. It goes beyond the act of sex itself, focusing on the spiritual energy and connection between two individuals.
By practicing spiritual sex, we can experience a deeper sense of intimacy, reduced stress, and improved emotional connection. It allows us to fully embrace the present moment and appreciate the sacredness of our connection.
Additionally, solo tantra offers a path for personal growth and self-discovery. Through self-pleasure, mindfulness, and visualization, we can cultivate a deeper understanding of our own spiritual energy and enhance our sense of self.
Spiritual sex, whether practiced with a partner or alone, offers a transformative journey towards greater connection, fulfillment, and personal growth.
Preparation and Suitability
Setting the intention for a spiritual experience and creating a distraction-free space are important steps in preparing for a deeply connecting and intimate encounter.
It is crucial to consider our personal readiness and comfort level before engaging in spiritual sex. Taking the time to reflect on our own boundaries, desires, and fears allows us to approach this experience with authenticity and openness.
If we have experienced sexual trauma or have negative associations with sex, seeking guidance from a trained professional or therapist can provide valuable support and healing. They can help us navigate any emotional blocks or triggers that may arise during the process.
By prioritizing our emotional well-being and seeking guidance when needed, we can create a safe and nurturing environment for our spiritual journey of connection and intimacy.
Techniques and Exercises
Implementing various practices and exercises, such as tantric yoga and chakra healing, can enhance the depth and fulfillment of our intimate experiences.
When it comes to spiritual sex, these techniques can be equally beneficial for solo practice. By incorporating chakra healing, we can tap into our own energetic centers and awaken our sensual consciousness.
Focusing on each chakra, from the root to the crown, allows us to activate and balance these energy centers, creating a harmonious flow of spiritual energy throughout our bodies.
This solo journey of self-exploration and healing not only deepens our connection with our own spirituality but also enhances our sense of self and personal growth.
Through chakra healing and other sacred practices, we can embark on a profound and transformative path towards spiritual sex, both individually and with a partner.
Frequently Asked Questions
Can spiritual sex be practiced by individuals who are not in a romantic relationship or have a partner?
Yes, spiritual sex can be practiced by individuals without a partner. Through solo exploration, I can connect with the divine and incorporate spirituality into my solo sexual experiences, fostering personal growth and deepening my self-awareness.
Are there any specific rituals or ceremonies that can be incorporated into spiritual sex?
Incorporating sacred symbols can enhance the experience of spiritual sex by deepening the connection and creating a sacred atmosphere. Exploring different sensory techniques, such as using feathers or scented oils, can also heighten the experience and increase intimacy.
How can one overcome feelings of self-consciousness or vulnerability during spiritual sex?
To overcome self-consciousness during spiritual sex, I embrace vulnerability as an opportunity for deeper connection. By trusting myself and my partner, I create a safe space to explore and express my authentic self, fostering a sacred and fulfilling experience.
Can spiritual sex enhance overall sexual pleasure and satisfaction?
Yes, spiritual sex can enhance overall sexual pleasure and satisfaction. By exploring the mind-body connection and going beyond physical sensations, it allows for a deeper level of intimacy, connection, and fulfillment in the sexual experience.
Are there any potential risks or challenges associated with practicing spiritual sex?
Potential risks and challenges of practicing spiritual sex include navigating boundaries and consent, addressing emotional intimacy, and maintaining mindfulness. However, these challenges can lead to personal growth and deepening connections, even in solo spiritual practices.
Conclusion
In conclusion, embracing the sacred connection of spiritual sex offers a transformative journey of deep intimacy and personal growth.
By going beyond the physical level and utilizing mindfulness, breathing exercises, and visualization techniques, couples can experience reduced stress, increased intimacy, and improved emotional connection.
One interesting statistic reveals that couples who engage in spiritual sex report a 30% increase in overall relationship satisfaction.
By setting intentions, creating a distraction-free space, and practicing techniques such as tantric yoga and chakra healing, individuals can embark on a truly meaningful and fulfilling spiritual journey with their partner.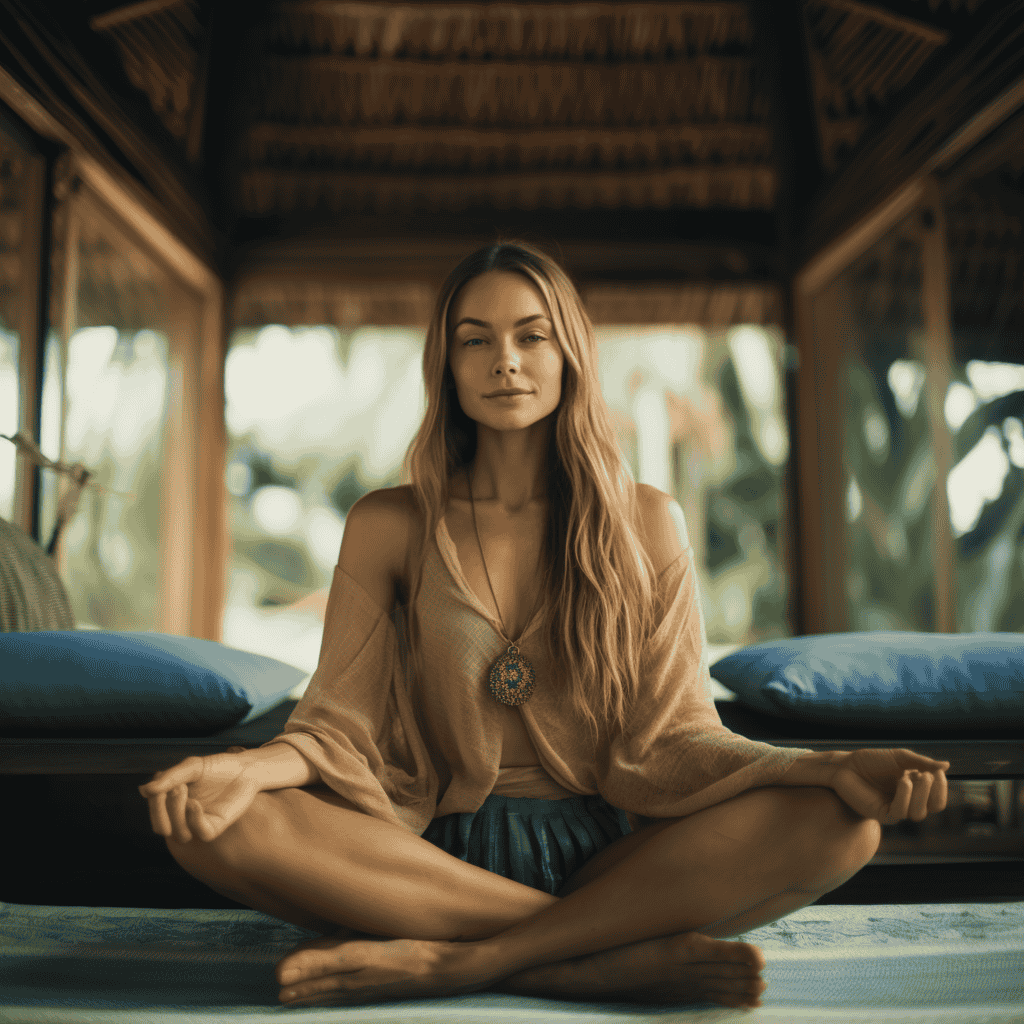 Meet Kiran, the guiding light of wisdom behind the empowering content at OurMindAndBody.com. As a talented and compassionate writer, Kiran weaves words with grace and insight, sharing profound knowledge and practical advice to inspire positive transformations in the lives of readers.
With a background in psychology and a deep-rooted passion for well-being, Kiran brings a unique blend of expertise and empathy to her writing. Her journey into the realm of mindfulness, meditation, and yoga began as a personal quest for self-discovery and healing. Having experienced the profound benefits of these practices firsthand, Kiran is committed to empowering others to embark on their own journeys of self-exploration and growth.