In today's fast-paced world, finding moments of tranquility and relief from stress is more important than ever. That's where relaxation massage comes in. This therapeutic technique is designed to unwind the tensions of life and promote overall well-being.
As a relaxation massage practitioner, I have witnessed firsthand the incredible benefits it offers. From reducing anxiety and improving sleep quality to alleviating muscle tension and boosting the immune system, the power of relaxation massage is undeniable.
However, it's crucial to prioritize safety and adapt the practice to specific health conditions. In this article, we will explore the benefits and safety considerations of relaxation massage, as well as techniques to enhance the overall experience.
Key Takeaways
Relaxation massage can help reduce anxiety and mental stress, promoting emotional well-being.
It can improve sleep quality, mood, and overall outlook on life.
The massage technique alleviates muscle tension, improves blood circulation, and boosts the immune system.
Safety considerations and adaptations are necessary for specific health conditions, and ensuring client comfort and safety is paramount during the massage.
Benefits and Effects
Relaxation massage offers a wide range of benefits and effects. These include the reduction of anxiety and stress, the promotion of emotional well-being, improved sleep quality, and increased relaxation and calmness.
Different massage techniques can be used during a relaxation massage to help unwind the tensions of life and provide a sense of deep relaxation.
The importance of relaxation cannot be overstated. It allows the body and mind to recharge and rejuvenate. By releasing muscle tension, relaxation massage not only improves blood circulation but also boosts the immune system.
In addition, relaxation massage can alleviate symptoms of anxiety and depression, promoting a sense of serenity and calmness.
Overall, relaxation massage is a powerful tool that can enhance overall well-being and provide a much-needed break from the stresses of daily life.
Safety Considerations
When considering the safety of a relaxation massage, it is important to take into account specific health conditions and make any necessary adaptations. There are certain contraindications to be aware of, such as recent injuries, acute medical conditions, and skin infections, which may require caution or avoidance of the massage.
It is also important to consider modifications for pregnancy, as certain techniques and positions may need to be adjusted to ensure the safety and comfort of the client. Open communication about health concerns is essential, as it allows the massage practitioner to tailor the session accordingly.
Additionally, ensuring that the client is comfortable and monitoring pressure levels throughout the massage helps to maintain safety. By being mindful of these considerations and making appropriate adaptations, relaxation massage can be enjoyed safely and effectively.
Client Comfort and Safety
During a massage session, I ensure that the client is comfortable and safe by monitoring pressure levels and providing support when needed. By carefully monitoring the pressure, I can ensure that the massage is not too intense or painful for the client.
I pay close attention to their reactions and adjust accordingly to ensure their comfort. Additionally, I keep a keen eye out for any signs of discomfort that the client may exhibit during the session. This could include facial expressions, tense muscles, or verbal cues.
If I notice any signs of discomfort, I immediately address the issue and make any necessary adjustments to ensure that the client feels safe and at ease. It is my priority to create a soothing and relaxing environment where the client can fully unwind and enjoy the benefits of the massage.
Integration of Techniques
I integrate various techniques such as guided breathing exercises, mindfulness practices, and aromatherapy to enhance the relaxation experience for my clients.
Incorporating mindfulness allows clients to be fully present, focusing on the sensations and benefits of the massage. It helps to calm the mind and reduce mental stress, promoting a deeper state of relaxation.
Aromatherapy and essential oils are also used to create a soothing and serene atmosphere during the massage. The scents of lavender, chamomile, or eucalyptus can have a calming effect on the nervous system and enhance the overall relaxation experience.
By incorporating these techniques, I aim to provide a holistic and rejuvenating massage session that promotes both physical and mental well-being for my clients.
Training and Certification
To become a relaxation massage practitioner, it is important to undergo comprehensive education and training, seek certification from recognized organizations, obtain licenses as per local regulations, and continue education for skill development. Continuing education is crucial in this field as it allows practitioners to stay updated with the latest techniques and research, ensuring they provide the best possible care to their clients. Local regulations vary, so it is essential to obtain the necessary licenses to practice legally and ethically. By adhering to these regulations, practitioners can ensure the safety and well-being of their clients. Additionally, ongoing education and training demonstrate a commitment to professional growth and development, which can instill confidence in clients.
Emotions evoked
Confidence
Professionalism
Trust
Assurance
Expectations During a Session
A relaxation massage session typically involves creating a soothing and tranquil environment to facilitate a sense of calmness and promote the release of tension in the body. During a session, here are some expectations you can have:
Duration: A relaxation massage session usually lasts between 60 to 90 minutes, depending on your preference and availability. This allows ample time for the therapist to work on different areas of your body and ensure a thorough and relaxing experience.

Comfortable Attire: It is recommended to wear loose and comfortable clothing during the session to enhance relaxation and ease of movement. However, some practitioners may provide disposable garments for optimal comfort and modesty.

Communication: Open communication with your massage therapist is essential. Before the session begins, you can discuss your goals, areas of focus, and any specific concerns or preferences. This ensures that the therapist can tailor the massage to meet your individual needs.

Relaxation Techniques: The therapist will use various techniques, such as long, flowing strokes, kneading, and gentle stretching, to promote relaxation and release tension. They may also incorporate other relaxation techniques like guided breathing exercises or aromatherapy to enhance the overall experience.
By having clear expectations and understanding what to anticipate during a relaxation massage session, you can fully embrace the benefits and enjoy a rejuvenating experience.
Types of Relaxation Massage
There are various types of massage techniques that are commonly used for relaxation purposes. Different techniques offer unique benefits and cater to individual preferences.
Swedish massage is one of the most popular types, known for its long, flowing strokes and gentle kneading. It promotes deep relaxation and improves blood circulation.
Another popular technique is aromatherapy massage, which combines the benefits of massage with the use of essential oils. The scents of the oils help to calm the mind and uplift the mood.
Hot stone massage involves placing heated stones on specific areas of the body to release tension and promote relaxation. It is particularly effective in relieving muscle stiffness.
Other techniques include deep tissue massage, Thai massage, and reflexology.
It's important to try different techniques to find the one that suits you best and enhances your relaxation experience.
I find it fascinating to explore the various types of massage techniques available for relaxation purposes. When it comes to relaxation massage, there are several types that offer unique benefits and cater to different needs. One popular type is Swedish massage, which involves long, gliding strokes and kneading to promote relaxation and improve circulation. Another type is hot stone massage, where smooth, heated stones are placed on the body to help release tension and induce a sense of calm. Aromatherapy massage combines the benefits of massage with the use of essential oils to enhance relaxation and promote emotional well-being. Deep tissue massage, on the other hand, focuses on targeting deeper layers of muscle to alleviate chronic tension. Lastly, there is Thai massage, which involves stretching and gentle pressure to improve flexibility and promote relaxation. During a relaxation massage session, you can expect a tranquil environment, soft music, and a therapist who will tailor the massage to your specific needs and preferences. It's important to communicate any concerns or expectations you may have to ensure a comfortable and enjoyable experience.
Frequently Asked Questions
How often should I receive relaxation massage to experience its full benefits?
To experience the full benefits of relaxation massage, it is recommended to receive it on a regular basis. The optimal frequency depends on individual needs, but weekly or bi-weekly sessions are often beneficial for maintaining relaxation and reducing tension.
Can relaxation massage help with chronic pain conditions?
Relaxation massage can be effective for chronic pain conditions by reducing muscle tension, improving blood circulation, and promoting relaxation. It may help alleviate pain and enhance overall well-being.
Are there any age restrictions or limitations for receiving relaxation massage?
Age restrictions or limitations for relaxation massage are minimal. Safety precautions include open communication about health concerns, adapting for specific conditions, and ensuring comfort. Relaxation massage is generally safe for all ages.
Can I request a specific type of essential oil or scent during my relaxation massage?
Yes, you can certainly request a specific type of essential oil or scent during your relaxation massage. Many therapists offer scent customization to enhance your experience and promote relaxation.
Is it necessary to undress completely during a relaxation massage session?
No, it is not necessary to undress completely during a relaxation massage session. Draping options are available to ensure privacy and comfort. Your therapist will discuss your preferences and address any concerns you may have.
Conclusion
In conclusion, relaxation massage is a valuable therapeutic technique that offers numerous benefits for overall well-being. It effectively reduces anxiety, improves sleep quality, and enhances mood and relaxation. It also provides relief from muscle tension and promotes better blood circulation and immune system function.
However, it is important to consider safety considerations and adapt the massage for specific health conditions. Interestingly, studies have shown that regular relaxation massage can lead to a significant reduction in the levels of stress hormones in the body, further contributing to its positive effects.
Therefore, incorporating relaxation massage into a wellness routine can greatly enhance one's physical and mental health.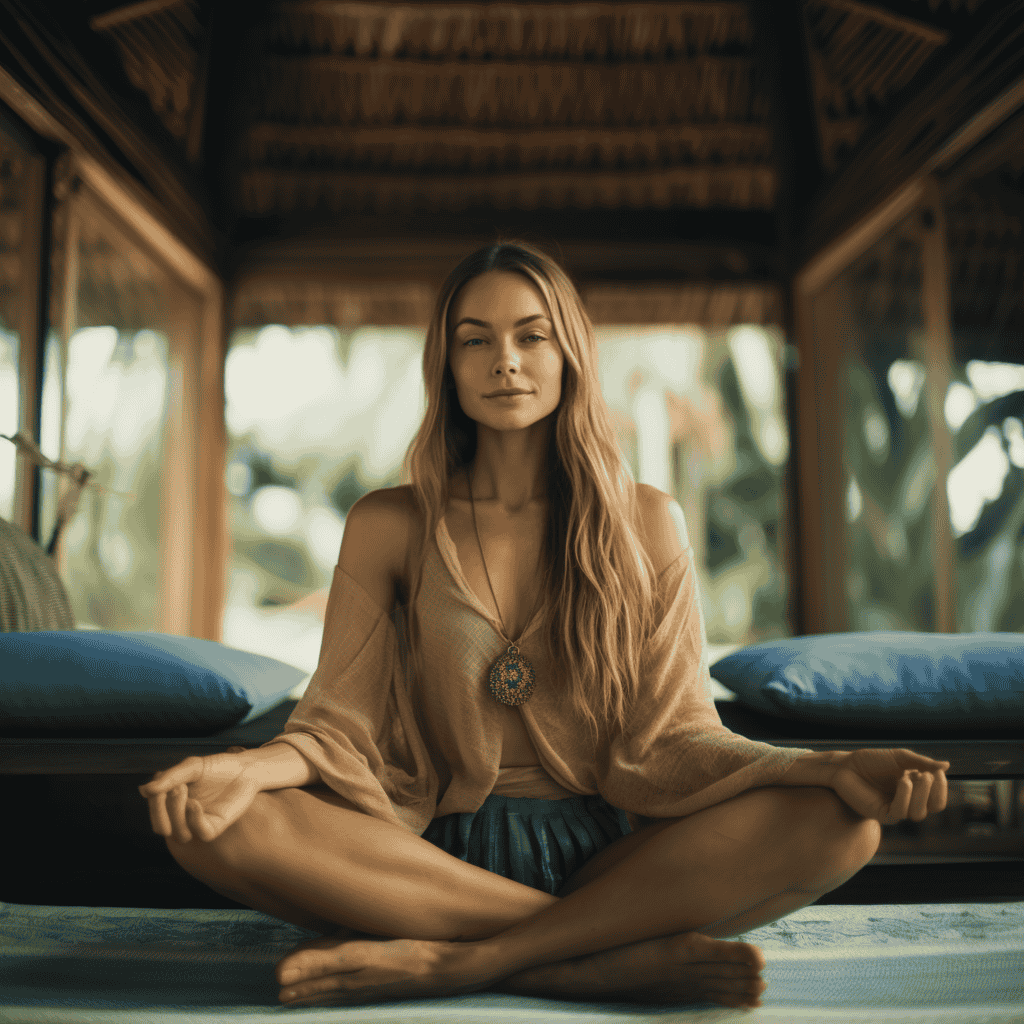 Meet Kiran, the guiding light of wisdom behind the empowering content at OurMindAndBody.com. As a talented and compassionate writer, Kiran weaves words with grace and insight, sharing profound knowledge and practical advice to inspire positive transformations in the lives of readers.
With a background in psychology and a deep-rooted passion for well-being, Kiran brings a unique blend of expertise and empathy to her writing. Her journey into the realm of mindfulness, meditation, and yoga began as a personal quest for self-discovery and healing. Having experienced the profound benefits of these practices firsthand, Kiran is committed to empowering others to embark on their own journeys of self-exploration and growth.