Unlocking your third eye through meditation is a fascinating journey of self-discovery and transformation. Delving into the depths of your subconscious, this practice has the power to awaken a heightened sense of awareness and open doors to unimaginable sensations and benefits.
As you embark on this path, you may encounter tingling sensations, particularly in the forehead, indicating progress in your meditation practice. These sensations are just the beginning of a profound experience that can lead to increased mindfulness, reduced stress, improved sleep, and a whole new perception of yourself and the world around you.
Key Takeaways
Tingling sensations, particularly in the forehead, are common during meditation and are connected to the activation of the third eye.
Sensations during meditation can vary from person to person and may include itching, muscle relaxation, increased awareness, and physical sensations in the feet and palms.
Open-mindedness is important in order to experience these sensations and progress in meditation.
The benefits of meditation include mindfulness, reduced stress and negative emotions, improved sleep quality, decreased blood pressure, and enhanced self-awareness.
What is it?
When I feel a tingling sensation during meditation, it means that my third eye is being activated and I am progressing in my practice. This sensation is a sign of spiritual awakening and a deeper connection to my inner self.
The tingling is specifically felt in the forehead, which is the location of the third eye chakra. It signifies the opening and expansion of my intuition, insight, and spiritual awareness. It's a powerful and exciting experience that reminds me of the limitless potential within me.
As I continue to meditate, the tingling sensation may become more intense and frequent, indicating further growth and development. It's a beautiful journey of self-discovery and self-transcendence, and I embrace it with open arms.
Mechanism and Causes
The mechanism and causes behind the tingling sensation during meditation vary from person to person. It is believed that the tingling sensation is closely connected to the activation and exploration of the third eye chakra. Here are some possible causes of the tingling sensation:
Increased energy flow: During meditation, the energy in our body is believed to flow more freely. The tingling sensation may be a result of this increased energy flow.

Opening of the third eye: The tingling sensation in the forehead is often associated with the opening and activation of the third eye chakra. It is believed to signify progress in meditation and the development of psychic abilities.

Heightened awareness: As we deepen our meditation practice, our awareness expands. The tingling sensation may be a physical manifestation of this heightened awareness.

Sensitivity to subtle energies: Through meditation, we become more attuned to the subtle energies in and around us. The tingling sensation may be a result of becoming more aware of these energies.
Exploring the third eye chakra and understanding the causes of the tingling sensation can enhance our meditation experience and deepen our spiritual journey.
Common Sensations
During meditation, I often experience tingling sensations in various parts of my body. One of the most common sensations I feel is a tingling in my forehead, which I have come to associate with the activation of my third eye. This sensation is often accompanied by a sense of energy and awareness in that area. It is a sign of progress in my meditation practice and indicates that I am opening up to a deeper level of consciousness.
These tingling sensations are not limited to my forehead though. I have also felt them in my feet and palms, as well as other parts of my body. These sensations are all part of the journey towards spiritual awakening and the unlocking of the third eye. They serve as reminders that there is more to our reality than what meets the eye.
I have learned to embrace these sensations and approach them with open-mindedness. They are a testament to the power of meditation and its ability to connect us with our inner selves and the spiritual realm.
Through continued practice and exploration, I hope to further unlock the potential of my third eye and experience even deeper levels of awareness and enlightenment.
Benefits
I have personally experienced a multitude of positive effects from my regular meditation practice. One of the benefits that stands out to me is the improved focus that I have gained. Through meditation, I've learned to quiet my mind and let go of distracting thoughts, allowing me to concentrate better on the task at hand. This heightened focus has not only helped me in my meditation practice but has also carried over into other areas of my life, such as work and relationships.
Another significant benefit that I've noticed is the increased self-awareness that comes with meditation. By taking the time to sit with myself and observe my thoughts and emotions without judgment, I've developed a deeper understanding of who I am and how I react to different situations. This self-awareness has allowed me to make positive changes in my life and has helped me cultivate a greater sense of peace and happiness.
In summary, regular meditation has not only improved my focus but has also increased my self-awareness. These benefits have had a profound impact on my overall well-being and have allowed me to navigate life with greater clarity and intention.
Deep Meditation Experience
Through deep meditation, I have experienced a profound sense of peace and a heightened state of awareness. It is during these moments that I truly feel connected to myself and the world around me.
The restraints on my body and mind loosen, allowing me to let go of any tension or worries that I may be holding onto. Time seems to slow down, and I find myself getting lost in pleasant thoughts and feelings of tranquility.
To maintain focus during deep meditation, I have found that focusing on my breath is key. By grounding myself in the present moment and paying attention to each inhale and exhale, I am able to stay centered and fully immerse myself in the experience.
Additionally, I have found that creating a relaxing atmosphere, using alternatives like essential oils or incense, and establishing a regular practice have all enhanced my deep meditation sessions. These tips have helped me reduce distractions and set up a routine that supports my meditation practice.
Frequently Asked Questions
Can anyone unlock their third eye through meditation?
Yes, anyone can potentially unlock their third eye through meditation. Common misconceptions include thinking it's exclusive to certain individuals. Meditation can bring potential benefits such as increased self-awareness, enhanced intuition, and a deeper connection to spirituality.
Are there any potential risks or side effects associated with unlocking the third eye?
There are potential risks and side effects associated with unlocking the third eye. It's important to approach this practice with caution and seek guidance from experienced practitioners. Some risks include spiritual imbalances, hallucinations, and detachment from reality.
How long does it typically take to start experiencing sensations in the third eye during meditation?
To strengthen your third eye sensations, it's important to focus during meditation. The length of time it takes to start experiencing sensations in the third eye can vary, but regular practice and deepening your focus can help expedite the process.
Can meditation alone unlock the third eye, or are there other practices or techniques that need to be incorporated?
Meditation alone can unlock the third eye, but incorporating specific techniques can enhance the process. Third eye activation and awakening techniques, such as visualization, chanting, and energy work, can deepen the experience and accelerate the opening of the third eye.
Are there any specific techniques or exercises that can help enhance the sensations and benefits of unlocking the third eye through meditation?
To enhance the sensations of unlocking the third eye through meditation, techniques like focusing on the third eye area, practicing visualization, and exploring energy work can be helpful. These techniques can deepen the benefits of increased self-awareness and spiritual growth.
Conclusion
In conclusion, unlocking your third eye through meditation can bring about a world of sensations and benefits.
As you delve deeper into your practice, you may experience tingling sensations, muscle relaxation, and increased awareness. These are signs of progress and indicate that you are on the right path.
The benefits of meditation are vast, ranging from reduced stress and negative emotions to improved sleep quality and memory retention.
Through regular practice, you can unlock the potential within yourself, experiencing a heightened sense of self-awareness and mindfulness.
So, dive into the depths of meditation and unlock the treasures that await you. As the saying goes, 'Meditation is the key that opens the door to your inner wisdom.'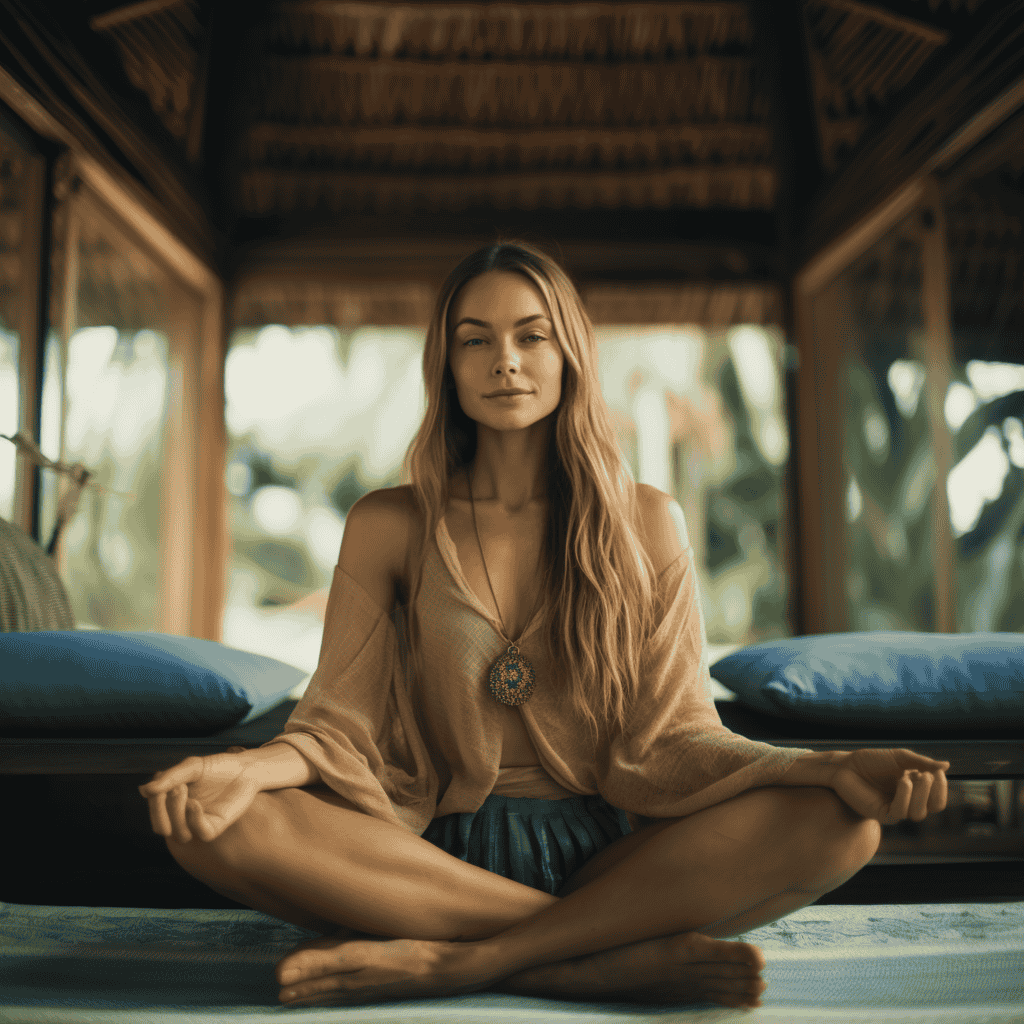 Meet Kiran, the guiding light of wisdom behind the empowering content at OurMindAndBody.com. As a talented and compassionate writer, Kiran weaves words with grace and insight, sharing profound knowledge and practical advice to inspire positive transformations in the lives of readers.
With a background in psychology and a deep-rooted passion for well-being, Kiran brings a unique blend of expertise and empathy to her writing. Her journey into the realm of mindfulness, meditation, and yoga began as a personal quest for self-discovery and healing. Having experienced the profound benefits of these practices firsthand, Kiran is committed to empowering others to embark on their own journeys of self-exploration and growth.