In a world that constantly demands our attention and productivity, we often forget to prioritize our own well-being. We become like tightly wound springs, ready to unravel at the slightest touch.
But what if we could release the tension and find a state of calm amidst the chaos? What if we could tap into the power of de-stressing to not only enhance our own well-being, but also strengthen our relationships with others?
In this article, we'll explore the transformative effects of relaxation and how it can bring us closer to a more peaceful and fulfilling life.
Key Takeaways
Relaxation has numerous health benefits and is essential for overall well-being.
Communication and expressing emotions can help alleviate stress and improve relationships.
Identifying and managing stress triggers is crucial for effective stress reduction.
Engaging in physical activities and building strong relationships contribute to relaxation and overall well-being.
What is Relaxation?
Relaxation is important for my overall well-being because it has many health benefits and helps reduce the negative impact of stress on my relationships, blood pressure, and cholesterol.
Taking time off to relax is not a waste of time, but rather a form of productivity. When I disconnect and look around, it helps me to de-stress and recharge.
Planning at least one day a week to relax and take time for myself is essential. During this time, I can sit on the couch, read, or watch my favorite TV show. Switching off my mobile and asking loved ones not to disturb me for a few hours allows me to fully disconnect and unwind.
By taking the time to relax, I find that my mood improves and I am better able to treat others with kindness and patience. Additionally, stress can cause us to push away those close to us, so it is important to prioritize relaxation in order to maintain healthy relationships.
Importance of Relaxation
Taking time to unwind and recharge is essential for maintaining overall health and improving the way I connect with others. When I prioritize relaxation, I create a space where I can disconnect from the demands of daily life and focus on rejuvenating my mind and body.
Here are three ways I can achieve this:
Sitting on the couch, reading a book, or watching my favorite TV show allows me to escape into a world of imagination and entertainment, providing a much-needed break from the stresses of the day.

Switching off my mobile and asking loved ones not to disturb me for a few hours creates a peaceful environment where I can fully immerse myself in relaxation without distractions.

Engaging in deep breathing exercises and practicing meditation helps me release tension and find inner calm, promoting a sense of well-being and reducing stress levels.
By embracing these relaxation techniques, I not only enhance my own well-being but also improve my relationships with others by being more present, patient, and compassionate.
Benefits of Deep Breathing
Engaging in deep breathing exercises and practicing meditation helps me find inner calm and reduce stress levels. Deep breathing is a powerful tool that allows me to focus on my breath and bring my attention to the present moment. This simple practice activates the body's relaxation response, slowing down the heart rate and lowering blood pressure. It also helps to release tension and promote a sense of tranquility.
To give you a visual representation of the benefits of deep breathing, here is a table that highlights its positive effects:
Benefits of Deep Breathing
Reduces stress levels
Promotes relaxation
Improves focus and clarity
By incorporating deep breathing into my daily routine, I am able to better manage stress and enhance my overall well-being. It is a practical and accessible technique that can be done anytime, anywhere. Whether it's taking a few moments to close my eyes and focus on my breath or using meditation apps for guidance, deep breathing has become an essential part of my self-care routine.
Effective Communication
I find that open and honest communication with others is crucial in managing stress and maintaining healthy relationships. When we express our feelings and emotions to those around us, it not only helps us release some of the tension, but it also allows others to understand what we're going through and offer their support.
Effective communication during times of stress involves being honest about our needs and asking for the time and space to deal with our personal issues. It's important to remember that treating others harshly due to stress is unfair and can strain our relationships. By speaking to our loved ones about our stress and seeking their support, we can alleviate some of the burden and find comfort in their understanding.
Here are four ways that effective communication can help in managing stress and enhancing relationships:
Sharing our stressors: Expressing our stress triggers and concerns with others can provide relief and help us gain perspective on our situation. Sometimes, simply talking about our stressors can make them feel more manageable.

Seeking support: Communicating our stress to loved ones can lead to emotional support and encouragement. Sharing our feelings with someone we trust can help us feel understood and less alone in our struggles.

Problem-solving: Engaging in open communication allows us to brainstorm strategies and solutions to the challenges we're facing. By collaborating with others, we can gain new insights and find effective ways to manage our stress.

Building understanding: When we communicate our stress and its impact on us, it helps others understand our perspective and adjust their expectations accordingly. This can prevent misunderstandings and reduce unnecessary pressure on ourselves.
By practicing effective communication, we can not only manage our stress levels but also strengthen our relationships and promote overall well-being.
Managing Stress
Managing stress involves several key steps. First, it is important to identify the triggers that cause stress in our lives. By understanding what specifically causes stress for us, we can better address and manage it. This involves analyzing our habits, attitudes, and excuses to uncover the sources of stress. Once we have identified these triggers, we can then develop strategies to effectively cope with them. One important strategy is learning to say no and setting boundaries. By prioritizing our own well-being and being selective about the requests we take on, we can greatly reduce stress levels. Additionally, incorporating relaxation activities into our daily routines is crucial for managing stress. Activities such as deep breathing exercises, meditation, and physical activity can all help to reduce stress and promote overall well-being. By actively working towards reducing stress, we not only improve our own well-being but also enhance our relationships with others.
Identifying Triggers
Identifying triggers is essential for understanding and effectively managing stress. By recognizing the specific factors that contribute to our stress levels, we can develop strategies to minimize their impact and create a healthier, more balanced life. Here are four key steps to help identify triggers:
Self-reflection: Take time to reflect on your daily experiences and emotions. Notice patterns in your thoughts, feelings, and behaviors that may indicate sources of stress.

Environmental assessment: Consider the physical and social environments you find yourself in. Are there certain situations, places, or people that consistently cause stress? Identifying these external triggers can help you make informed decisions about how to avoid or minimize their impact.

Emotional awareness: Pay attention to your emotions and how they fluctuate throughout the day. Emotional triggers can be internal, such as negative self-talk or perfectionism, or external, like criticism from others. Being aware of these triggers can help you develop healthier coping mechanisms.

Mindfulness practice: Engage in mindfulness techniques, such as meditation or deep breathing exercises, to cultivate present-moment awareness. This can help you observe your thoughts and emotions without judgment, allowing you to identify triggers more objectively.
By taking the time to identify your stress triggers, you gain valuable insight into the factors that contribute to your stress levels. Armed with this knowledge, you can develop effective coping strategies and make proactive choices to manage stress and enhance your overall well-being.
Developing Strategies
Engaging in regular physical activity can contribute to stress reduction and promote overall well-being. Physical activity provides an opportunity to clear the mind and release pent-up tension. Whether it's going for a walk, jogging, or cycling, these relaxing activities can help alleviate stress and improve mood. Regular exercise has been shown to increase endorphin levels, which are natural mood boosters and stress relievers. Additionally, incorporating active time into your routine can help improve sleep quality, reduce anxiety, and enhance cognitive function.
To further enhance stress reduction, it is important to develop effective strategies. One strategy is to prioritize self-care and make time for relaxation. This can involve setting aside specific moments in your day or week to engage in activities that bring you joy and help you unwind. Another strategy is to practice mindfulness and meditation. Taking a few minutes each day to focus on your breath and be present in the moment can have profound effects on stress reduction. Additionally, it is beneficial to establish healthy boundaries and learn to say no when necessary. This helps prevent overload and allows for a better balance between work, personal life, and relaxation.
To help visualize the strategies for stress reduction, here is a table outlining four key steps:
Strategies for Stress Reduction
Prioritize self-care and relaxation
Practice mindfulness and meditation
Establish healthy boundaries and learn to say no
Incorporate regular physical activity into your routine
By implementing these strategies, you can effectively manage stress levels and enhance your overall well-being. Remember, taking care of yourself not only benefits you but also positively impacts your relationships with others.
Learning to Say No
Learning to say no has been a game-changer in reducing my stress levels and creating a healthier balance in my life. It took some time to realize that saying no is not selfish, but rather a way to prioritize my own well-being. Here are four reasons why learning to say no is essential:
Setting boundaries: Saying no allows me to establish clear boundaries and protect my time and energy. By prioritizing my own needs, I can better manage my stress levels and avoid overwhelming myself.

Honoring my priorities: Saying no helps me assess whether a request aligns with my priorities. It allows me to avoid taking on tasks or commitments that may contribute to stress and hinder my overall well-being.

Strengthening relationships: Saying no can strengthen relationships by establishing clear boundaries and fostering mutual respect. It communicates that I value my own well-being and encourages others to do the same.

Building self-confidence: Learning to say no empowers me to take control of my life and make decisions that are in my best interest. It builds my self-confidence and allows me to assert myself in a healthy and respectful manner.
By learning to say no, I have been able to reduce stress, prioritize my well-being, and enhance my relationships. It is an important skill that has brought me closer to achieving a healthier and more balanced life.
Physical Activity for Relaxation
Exercising regularly helps me relax and clear my mind. Engaging in physical activities like walking, jogging, or cycling not only benefits my physical health but also promotes relaxation and reduces stress.
When I engage in these activities, I feel a sense of calmness and peace. It provides me with an opportunity to disconnect from the demands of daily life and focus on myself.
Regular exercise contributes to stress reduction by releasing endorphins, which are known as 'feel-good' hormones, and improving overall mood. Additionally, physical activity helps me build stronger relationships by spending quality time with loved ones.
Engaging in meaningful conversations and sharing experiences and emotions foster a sense of connection and provide comfort. By prioritizing physical activity, I am not only taking care of my well-being but also enhancing my relationships and overall sense of well-being.
Building Strong Relationships
Now that we've explored the benefits of physical activity for relaxation, let's shift our focus to another important aspect of de-stressing: building strong relationships.
Developing meaningful connections with loved ones plays a significant role in enhancing overall well-being. Spending quality time with family and friends promotes relaxation by fostering a sense of support, comfort, and understanding. Engaging in meaningful conversations and sharing experiences and emotions can provide a much-needed outlet for stress relief.
Strong relationships not only contribute to our own relaxation but also strengthen our interactions with others. When we feel supported and connected, we are more likely to approach relationships with a positive and relaxed mindset.
By prioritizing building strong relationships, we can create a network of support that benefits both our mental and emotional well-being.
Overall Benefits of De-stressing
Reducing stress levels has a positive impact on my interactions with others, making me more pleasant to be around. When I am relaxed and free from the burden of stress, I am able to approach relationships with a calm and open mindset. This allows me to truly listen and empathize with others, fostering deeper connections.
Additionally, de-stressing enables me to communicate more effectively, as I am better able to express my emotions and needs without being overwhelmed. This leads to healthier and more fulfilling relationships.
Moreover, taking care of my own well-being through relaxation not only benefits me, but also those around me. When I prioritize self-care, I am able to show up as my best self, bringing positivity and joy to my interactions with loved ones.
Frequently Asked Questions
How does relaxation contribute to overall well-being?
Relaxation contributes to overall well-being by reducing stress levels, improving mood, and promoting better relationships. Taking time to relax allows for mental and physical rejuvenation, leading to increased productivity and a more positive outlook on life.
Can deep breathing really help reduce stress?
Yes, deep breathing can really help reduce stress. By focusing on my breath, I can calm my mind and relax my body. Deep breathing triggers the relaxation response, lowering cortisol levels and promoting a sense of calm.
How can effective communication alleviate stress?
Effective communication alleviates stress by allowing me to express my feelings and emotions to others, seek support, and set clear boundaries. It may not directly relieve stress, but it helps in managing and reducing stress levels.
What are some effective strategies for managing stress?
Some effective strategies for managing stress include identifying triggers, incorporating relaxation into daily routines, learning to say no, and engaging in physical activity. These actions can help reduce stress levels and improve overall well-being.
How does physical activity promote relaxation and well-being?
Physical activity promotes relaxation and well-being by clearing the mind and reducing stress. Engaging in activities like walking or jogging can help release tension and improve mood, leading to a sense of relaxation and overall well-being. As the saying goes, "A healthy mind resides in a healthy body."
Conclusion
In conclusion, embracing the power of de-stressing can truly transform our lives and relationships.
By prioritizing relaxation and engaging in activities that bring us joy, we can alleviate stress and enhance our overall well-being.
Deep breathing and effective communication are essential tools in managing stress and strengthening connections with loved ones.
Learning to say no and engaging in physical activity further promote relaxation and balance.
By incorporating these practices into our lives, we can experience the profound benefits of de-stressing, leading to happier, healthier relationships and a more fulfilling life.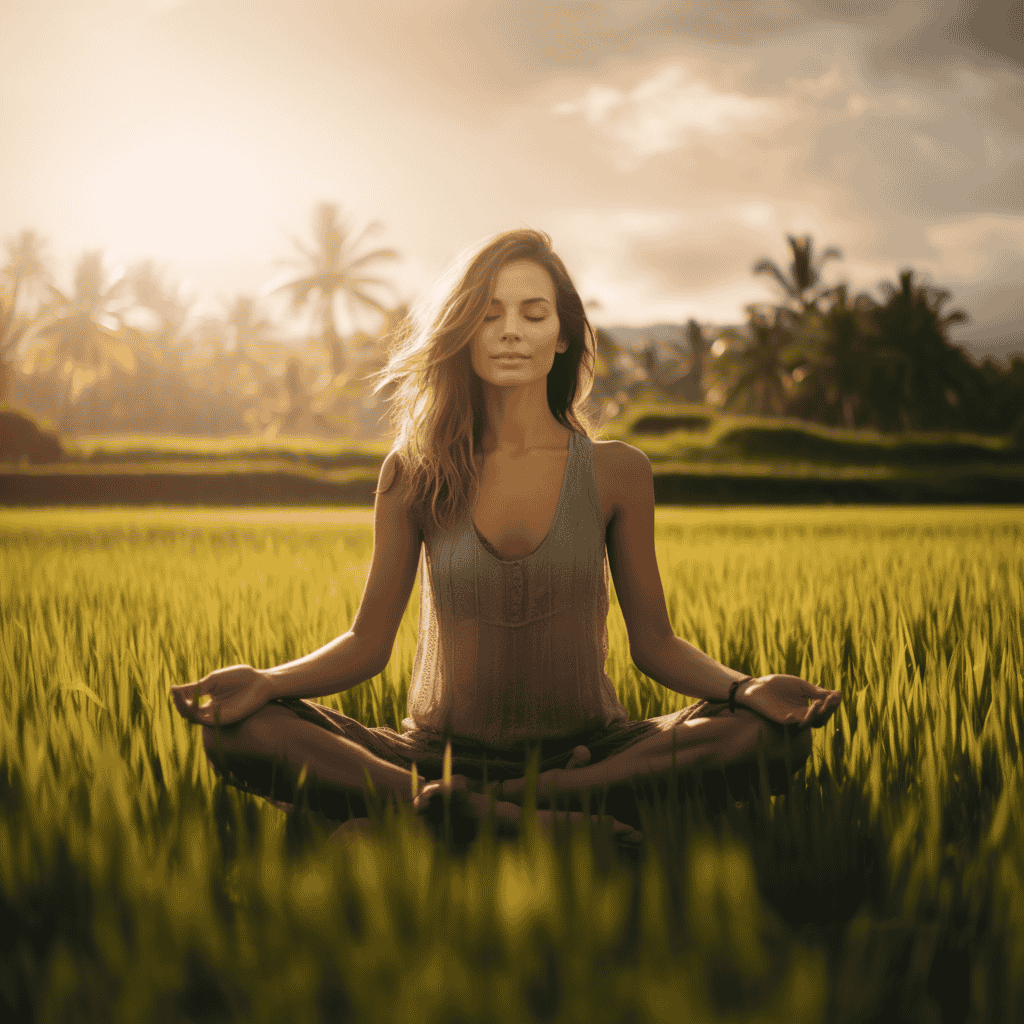 Say hello to Cypress, the soulful wordsmith behind the insightful articles at OurMindAndBody.com. Cypress is a gifted writer who weaves words with grace and precision, using language as a powerful tool to inspire, heal, and uplift the spirits of readers.
With a background in literature and a passion for personal growth, Cypress brings a unique perspective to the world of well-being and spirituality. Having experienced the transformative effects of meditation and yoga firsthand, Cypress is deeply connected to the essence of these practices and their potential to enrich lives.