As the saying goes, 'A calm mind is a powerful mind.' And what better way to cultivate calmness than through the practice of meditation?
In this article, we'll explore the benefits of meditation for kids and how it can help calm their young minds. Starting meditation at a young age not only offers immediate relaxation and stress reduction but also lays a foundation for long-term emotional well-being.
So join me as we dive into the world of kids' meditation and discover the incredible impact it can have on their lives.
Key Takeaways
Meditation improves focus and impulse control in kids.
It teaches redirection of attention and promotes better overall sleep.
Meditation enhances academic performance and social-emotional development in the long term.
Starting meditation at a young age develops mindfulness skills and fosters calmness and inner peace.
The Benefits
I've learned that meditation has numerous benefits for kids. It can improve focus and impulse control, teach redirection of attention, reduce sleep problems, and promote better overall sleep.
Long-term effects of meditation for kids include the development of better self-regulation skills and increased resilience to stress. When meditation is incorporated into the school curriculum, it can also have positive effects on children's academic performance and social-emotional development.
Research has shown that integrating meditation into the school curriculum helps students manage their emotions, improve concentration, and enhance overall well-being. By teaching kids these mindfulness techniques at a young age, we are equipping them with valuable tools to navigate the challenges they may face in life.
Meditation is a powerful practice that can contribute to calming young minds and promoting their overall well-being.
Starting at a Young Age
Starting meditation at a young age can have a profound impact on children's emotional well-being and overall development. The benefits of early meditation are numerous, with one of the key advantages being the development of mindfulness skills.
By introducing meditation to kids at an early stage, they can learn to pay attention to their thoughts, feelings, and physical sensations in a non-judgmental way. This helps them develop self-awareness and emotional regulation, which are essential skills for navigating the ups and downs of life.
Furthermore, starting meditation young can also foster a sense of calmness and inner peace, allowing children to better cope with stress and anxiety. In addition, it can enhance their focus and concentration, leading to improved academic performance.
By teaching kids meditation techniques from an early age, we are equipping them with tools that can benefit them throughout their lives.
Complementing Therapies
Complementing traditional therapies, incorporating meditation into children's treatment plans can provide additional support for their emotional well-being and overall development.
Meditation offers interactive elements that engage children and make the practice more enjoyable and accessible.
By introducing meditation in schools, we can create a nurturing environment where children can learn and practice these techniques regularly. This not only helps them develop mindfulness and relaxation skills but also enhances their ability to cope with stress and anxiety.
Incorporating meditation in schools also promotes a sense of calm and focus, which can improve academic performance and behavior management.
By integrating meditation into traditional therapies, we can create a more holistic approach to children's well-being, addressing both their emotional and physical needs.
Frequently Asked Questions
How can meditation help kids with behavior management and mindfulness?
Meditation helps kids with behavior management by teaching them mindfulness skills. It improves their ability to focus, manage impulses, and redirect attention. These skills reduce the impact of distractions and help them manage their behavior more effectively.
Are there any interactive elements or techniques specifically designed for kids' meditation?
Interactive techniques and mindfulness games are specifically designed to engage kids in meditation. These include activities like guided visualization, storytelling, and sensory experiences, making meditation more enjoyable and accessible for young minds.
Can meditation be used as a tool to cope with anxiety in children?
Yes, meditation can be a valuable tool to help children cope with anxiety. Through various meditation techniques, such as deep breathing and mindfulness, children can learn to manage their anxiety and find a sense of calm and relaxation.
What are some techniques or exercises that can help kids manage their anxiety through meditation?
To help kids manage anxiety through meditation, techniques and exercises include deep breathing, visualization, guided relaxation, and mindfulness. These practices calm young minds, promoting a sense of peace and reducing anxiety.
How does meditation affect kids' sleep patterns and can it help with sleep problems?
Meditation for kids can improve sleep quality by promoting better sleep, helping them fall asleep more easily, and facilitating a more restful night. It also reduces sleep problems and can be beneficial for children with sleep difficulties.
Conclusion
In conclusion, the practice of meditation offers countless benefits for children, providing a calming influence on their young minds. By starting meditation at a young age, we can set the foundation for long-term well-being and emotional resilience.
It complements traditional therapies and can be easily incorporated into schools. Through simple techniques like deep breathing and guided relaxation exercises, children can learn valuable skills for behavior management and anxiety reduction.
Moreover, meditation has been found to improve sleep quality and aid children with ADHD and attention difficulties. As the saying goes, 'A calm mind is a powerful mind,' and by introducing meditation to our kids, we empower them to navigate life's challenges with grace and tranquility.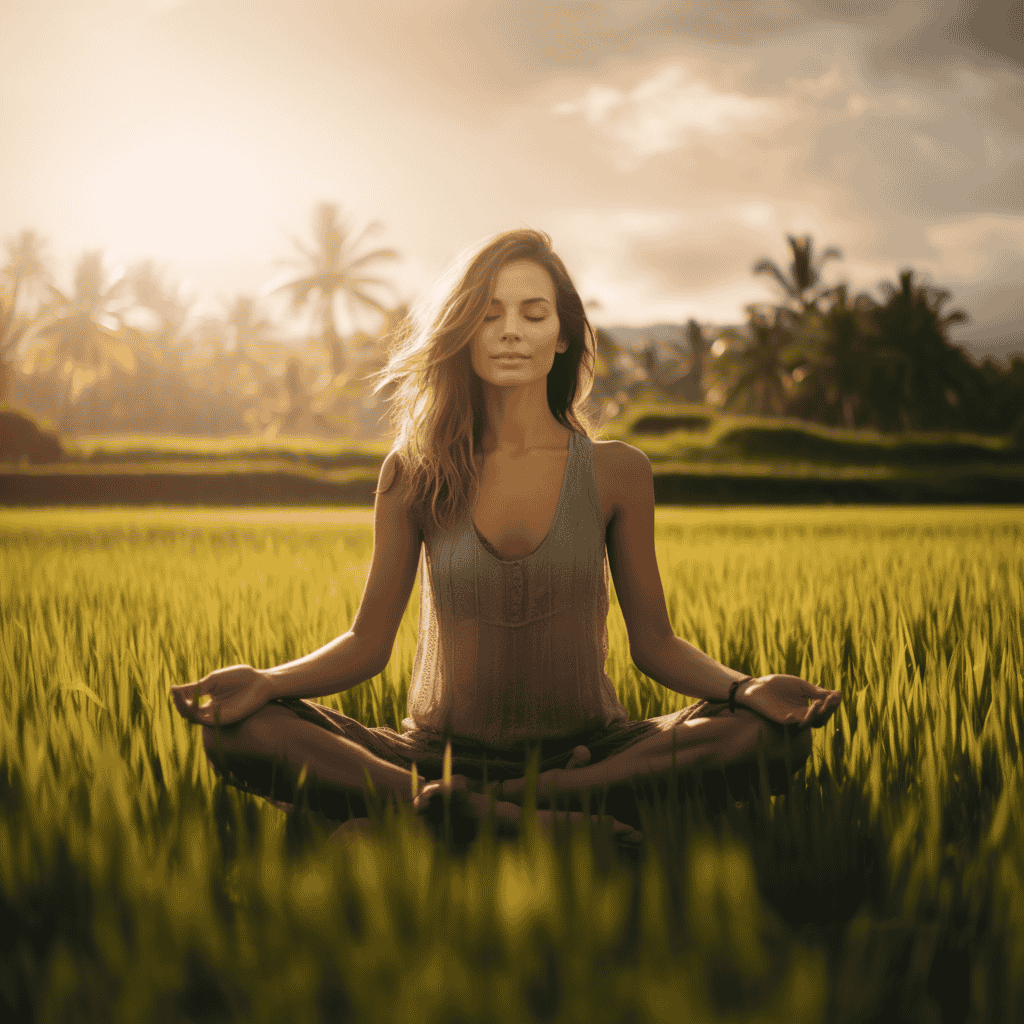 Say hello to Cypress, the soulful wordsmith behind the insightful articles at OurMindAndBody.com. Cypress is a gifted writer who weaves words with grace and precision, using language as a powerful tool to inspire, heal, and uplift the spirits of readers.
With a background in literature and a passion for personal growth, Cypress brings a unique perspective to the world of well-being and spirituality. Having experienced the transformative effects of meditation and yoga firsthand, Cypress is deeply connected to the essence of these practices and their potential to enrich lives.