Are you struggling to find the right sitting position for your mindful meditation practice? Well, you're not alone. Just last week, I was contorting myself into all sorts of awkward positions, trying to find that perfect balance between comfort and focus.
That's when I realized the importance of proper sitting poses for meditation. In this article, I will guide you through the six best sitting positions for meditation in 2022, including the Lotus Position and the Chair Position.
So, let's dive in and discover the key to maximizing the benefits of your mindfulness practice.
Key Takeaways
Lotus Position, Burmese Position, and Half-Lotus Position are popular sitting poses for meditation that promote physical comfort and a straight back.
Seated Forward Bend and Chair Position are alternative poses that maintain good posture and bring calm and peace during meditation.
Finding the right sitting position is important and personal preference matters. Experimenting with different poses can help find the most comfortable one.
Sitting up straight is crucial as it promotes good posture, prevents back pain, and enhances concentration, focus, and relaxation during meditation. Using a chair or stool is a suitable alternative for those who prefer not to sit on the floor.
Different Sitting Positions
I find it helpful to explore different sitting positions for my mindful meditation practice. These include the Lotus Position, Burmese Position, and Half-Lotus Position. Each of these positions offers unique benefits and flexibility options.
These seated positions are particularly beneficial for beginners, as they provide a comfortable and stable foundation for meditation. The Lotus Position, with its crossed legs and feet on opposite thighs, promotes physical comfort during extended periods of meditation and helps keep the back straight.
The Burmese Position, with feet flat on the ground and hands in mudra position on the lap, is an alternate pose for those who cannot comfortably sit in the Lotus Pose, while still maintaining good posture.
The Half-Lotus Position, with one foot on the opposite thigh and one foot flat on the ground, provides flexibility and is an easier alternative to the full Lotus Pose.
These different sitting positions offer flexibility and comfort, allowing for a more enjoyable and effective meditation experience.
Benefits of Good Posture
Maintaining good posture during meditation enhances focus, concentration, and relaxation. It is essential to find a sitting position that promotes postural alignment and supports the natural curvature of the spine.
One way to achieve this is by using ergonomic meditation cushions, which provide comfort and support for the hips and lower back. These cushions help to elevate the pelvis slightly, allowing the spine to align in its natural S-shape.
Additionally, incorporating postural alignment techniques such as sitting with a straight back, shoulders relaxed, and chin slightly tucked in, further enhances the benefits of good posture during meditation.
By maintaining proper alignment, we can ensure that the energy flows freely throughout the body, promoting a deeper sense of calm and mindfulness.
Finding the Right Position
Exploring different positions is crucial in order to find the most comfortable and effective posture for my meditation practice. When it comes to sitting poses for mindful meditation, there are several comfortable options to consider. Here are some tips for finding the right posture:
Experiment with different poses: Try out the Lotus Position, Burmese Position, Half-Lotus Position, Seated Forward Bend, or even the Chair Position. Each pose offers its own unique benefits and comfort levels.

Listen to your body: Pay attention to how your body feels in each position. Notice any tension or discomfort and make adjustments accordingly.

Find balance between comfort and alertness: The ideal posture should be comfortable enough to relax your body, but also maintain enough alertness to keep your mind focused.

Practice regularly: Consistency is key when it comes to finding the right position. Keep practicing different poses until you find the one that feels the most natural and supportive for your meditation practice.
By exploring these comfortable sitting options and following these tips, I can find the perfect posture that enhances my meditation experience.
Alternative Seating Options
One option to consider for alternative seating during meditation is using a cushion on the floor. While sitting on the floor can be uncomfortable for some, a cushion provides extra support and helps maintain good posture. It allows for a stable and grounded position, which is essential for a focused and relaxed meditation practice.
Another alternative seating option is using a chair. Sitting on a chair can be more accessible for individuals who have difficulty sitting on the floor or have physical limitations. It provides a comfortable and stable position, allowing for a longer meditation session without discomfort.
Additionally, for those who prefer a more active meditation practice, standing meditation is another alternative. Standing meditation allows for a different physical experience, promoting a sense of grounding and balance. It can be particularly beneficial for individuals who find sitting for extended periods challenging.
Importance of Proper Alignment
I find it crucial to ensure proper alignment in order to maximize the benefits of my meditation practice. Proper alignment not only supports correct posture, but also provides a solid foundation for deep breathing and relaxation.
Here are three key benefits of maintaining proper alignment during meditation:
Enhanced Concentration and Focus: When my body is aligned correctly, my mind can focus solely on the present moment, without distraction. This allows me to delve deeper into my meditation practice and experience a heightened sense of concentration and focus.

Increased Physical Comfort: Proper alignment helps to prevent back pain and discomfort that can arise from poor posture. By sitting with a straight spine and relaxed muscles, I can maintain a comfortable position throughout my meditation session, enabling me to fully relax and let go.

Improved Mindfulness: Aligning my body correctly during meditation promotes mindfulness by creating a mind-body connection. When my posture is aligned, I become more aware of my body's sensations, allowing me to cultivate a deeper sense of presence and mindfulness in my practice.
By prioritizing proper alignment, I can reap the many advantages that correct posture brings to my meditation practice.
Frequently Asked Questions
How long should I meditate in each sitting position?
When it comes to meditation, the duration of each sitting position depends on personal preference and comfort. Start with shorter intervals and gradually increase as you build your practice. Incorporating movement during breaks can help maintain focus and prevent stiffness.
Are there any specific sitting positions recommended for beginners?
There are different meditation techniques that beginners can try, such as the Lotus Position, Burmese Position, and Half-Lotus Position. These poses offer benefits like improved posture, relaxation, and enhanced focus, making them great options for beginners.
Can I use cushions or props to support my sitting posture during meditation?
Yes, using blankets, pillows, or other props can be beneficial for supporting your sitting posture during meditation. They provide comfort, stability, and help maintain good posture, allowing for a more relaxed and focused meditation experience.
Are there any specific sitting positions that are more suitable for people with back pain or flexibility issues?
There are alternative sitting positions for individuals with back pain or flexibility issues. Using meditation benches or chairs can provide benefits for those with physical limitations, such as promoting good posture and preventing back pain.
How can I maintain focus and avoid discomfort while sitting for longer meditation sessions?
To maintain focus and avoid discomfort during long meditation sessions, finding the right balance is crucial. It's important to choose a comfortable sitting position that supports good posture and use props if needed. Regular breaks and gentle stretching can also help alleviate any discomfort.
Conclusion
In conclusion, finding the right sitting position for mindful meditation is essential for maximizing its benefits.
Whether it's the Lotus Position, Burmese Position, or Half-Lotus Position, these poses promote comfort, good posture, and deep relaxation.
By sitting up straight, we enhance our focus, breathing, and overall experience.
However, for those who prefer alternatives, the Seated Forward Bend and Chair Position offer emotional calmness and back pain prevention.
Remember, the key is proper alignment and choosing what works best for you.
So, settle into your preferred position and embrace the tranquility of meditation.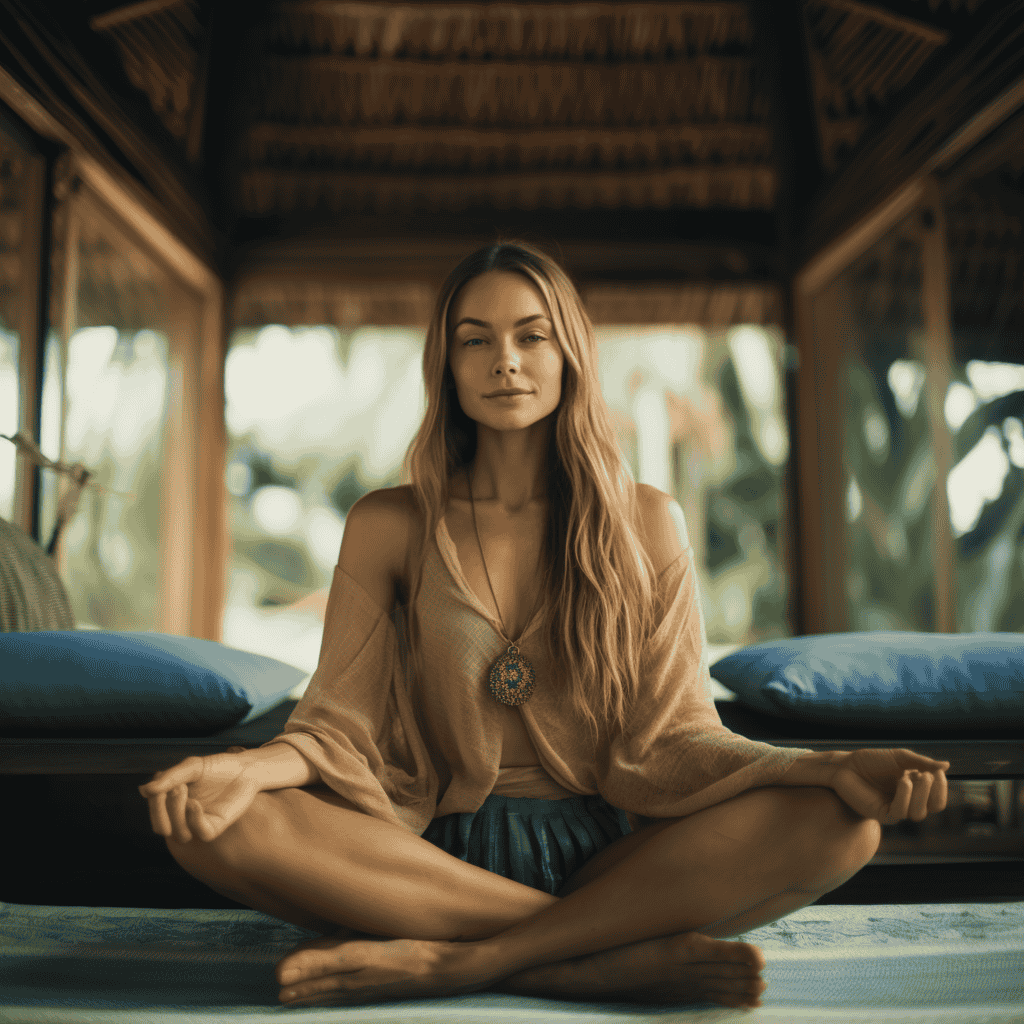 Meet Kiran, the guiding light of wisdom behind the empowering content at OurMindAndBody.com. As a talented and compassionate writer, Kiran weaves words with grace and insight, sharing profound knowledge and practical advice to inspire positive transformations in the lives of readers.
With a background in psychology and a deep-rooted passion for well-being, Kiran brings a unique blend of expertise and empathy to her writing. Her journey into the realm of mindfulness, meditation, and yoga began as a personal quest for self-discovery and healing. Having experienced the profound benefits of these practices firsthand, Kiran is committed to empowering others to embark on their own journeys of self-exploration and growth.