Imagine a clear, starry night sky, where the mind is calm and still. Just like the vast expanse above, meditation offers a natural solution for sleep and anxiety, bringing a sense of peace and tranquility into our lives.
By training our brains to observe thoughts and emotions without judgment, meditation reduces stress and anxiety, leading to improved sleep quality and overall mental well-being.
In this article, we will explore the benefits of meditation for sleep and anxiety, discuss various techniques, and provide helpful tips for incorporating this practice into your daily routine.
Key Takeaways
Meditation helps build brain functions for observing thoughts and emotions without bias
Short-term meditation reduces anxiety and stress
Meditation for sleep aids in falling asleep faster and improving sleep quality
Meditation increases wellbeing and helps with anxiety, depression, and living in the present moment
What is it?
Meditation is a practice that can naturally alleviate sleep problems and anxiety. There are different types of meditation that can be explored to find what works best. Focused attention and visualization are essential techniques in meditation. By focusing attention on the breath or a specific object, the mind can be calmed and anxious thoughts can be let go. Visualization techniques, such as imagining a peaceful scene or visualizing positive outcomes, can also help relax and reduce anxiety. To incorporate meditation into a daily routine, a specific time each day can be set aside to practice, whether it's in the morning or before bed. Meditation can also be integrated into daily activities by being mindful and present in whatever is being done. By making meditation a regular part of life, the benefits for sleep and anxiety can be reaped.
Benefits for Sleep
Using mindfulness techniques has been incredibly helpful for improving my sleep quality and falling asleep faster. Through meditation, I have experienced a range of benefits that have positively impacted my sleep routine.
Here are three ways in which meditation has improved my sleep:
Enhanced Sleep Quality: Regular meditation practice has allowed me to experience deeper and more restful sleep. By calming my mind and reducing racing thoughts, I am able to enter a state of relaxation that promotes better sleep throughout the night.

Faster Sleep Onset: Meditation has helped me let go of the pressures and stresses of the day, allowing me to effortlessly transition into sleep. By focusing on my breath and practicing mindfulness, I am able to quiet my mind and easily drift off to sleep.

Overall Relaxation: Engaging in meditation before bed promotes a sense of relaxation and tranquility. This relaxation response helps to reduce stress and tension in my body, making it easier for me to fall asleep quickly and peacefully.
Through the practice of meditation, I have discovered a natural solution for improving my sleep quality and falling asleep faster. It has become an essential part of my bedtime routine, providing me with a restful and rejuvenating sleep experience.
Benefits for Anxiety
Through regular practice, I have found that mindfulness techniques have significantly reduced my feelings of unease and restlessness. Meditation as a daily practice has been instrumental in coping with anxiety.
By focusing on my breath and observing my thoughts without judgment, I have learned to detach from anxious thoughts and create a sense of calm. It has helped me develop a greater sense of self-awareness and the ability to live in the present moment.
Meditation has become a powerful tool in managing anxiety, allowing me to let go of worries and fears that often consume my mind. By incorporating meditation into my daily routine, I have experienced a noticeable reduction in anxiety levels and an overall improvement in my mental well-being.
Meditation truly offers a natural and effective solution for those struggling with anxiety.
Techniques for Sleep
By incorporating various relaxation techniques into my bedtime routine, I have been able to improve my sleep quality and fall asleep more easily.
One technique that has been particularly helpful for me is deep breathing exercises. Taking slow, deep breaths helps to activate the body's relaxation response, calming the mind and preparing it for sleep.
Another technique I have found beneficial is progressive muscle relaxation, where I tense and then release each muscle group in my body, starting from my toes and working my way up to my head. This helps to release tension and promote a sense of deep relaxation.
Additionally, I have established bedtime rituals such as creating a peaceful environment by dimming the lights, using lavender essential oil, and listening to soothing music or guided meditation. These rituals signal to my body and mind that it is time to unwind and prepare for sleep.
By consistently practicing these relaxation techniques and incorporating them into my bedtime routine, I have experienced significant improvements in my sleep quality and overall well-being.
Techniques for Anxiety
To alleviate my feelings of unease, I have found that engaging in grounding exercises and practicing mindfulness allows me to regain a sense of calm and control.
When anxiety strikes, I turn to deep breathing exercises to anchor myself in the present moment. Inhaling slowly through my nose, feeling the air fill my lungs, and exhaling gently through my mouth, I release tension and worry with each breath.
Visualization techniques also prove helpful as I imagine myself in a peaceful, serene setting, surrounded by nature's beauty. I visualize the sights, sounds, and smells, allowing myself to fully immerse in the tranquility of the moment.
These techniques remind me to let go of racing thoughts and embrace the stillness within.
Positive Effects
Now that we have explored different techniques for managing anxiety through meditation, let's delve into the positive effects that meditation can have on our overall well-being.
Meditation is not only a powerful tool for relieving anxiety, but it also offers numerous benefits for our mental health. Regular meditation practice can enhance our overall well-being by reducing stress, increasing self-awareness, and promoting a sense of calm and inner peace. It has been found to be effective in managing conditions such as anxiety, depression, chronic pain, and even heart disease.
Moreover, meditation complements other treatment approaches and can improve our overall quality of life. By incorporating meditation into our daily routine, we can experience the transformative power it has on our mental health, allowing us to live more fully and joyfully.
Tips for Trying
When starting a meditation practice, it's important to remember that patience and consistency are key. It may take time to fully experience the benefits of meditation for sleep and anxiety, but the effort is worth it.
One way to enhance your practice is by exploring different meditation techniques. There are various methods available, such as mindfulness meditation, loving-kindness meditation, or body scan meditation. Find the technique that resonates with you and feels most comfortable.
Another important aspect is personalizing your meditation practice. Make it your own by adapting it to suit your needs and preferences. You can choose the duration and frequency of your sessions, as well as the environment in which you meditate. Some people find it helpful to incorporate guided meditations or visualization techniques.
Remember, there is no right or wrong way to meditate. It's about finding what works best for you and creating a practice that feels authentic and meaningful. So, take the time to explore and personalize your meditation journey, and embrace the process of self-discovery and inner calm.
Frequently Asked Questions
How long does it take for meditation to start showing benefits for sleep and anxiety?
It varies, but with consistent practice, meditation benefits for sleep and anxiety can start to show within a few weeks. The duration of meditation sessions can range from a few minutes to an hour, depending on individual preferences and schedules.
Can meditation be used as a standalone treatment for sleep disorders and anxiety?
Meditation alone may not be sufficient as a standalone treatment for sleep disorders and anxiety. While it can be effective, scientific evidence suggests that it is more beneficial when used in combination with other approaches.
Are there any specific meditation techniques that are recommended for improving sleep quality?
There are several meditation techniques that can improve sleep quality. Focused attention and visualization, relaxation through breathing exercises, and guided meditation are all recommended for promoting better sleep. These techniques help calm the mind and induce a state of relaxation, aiding in falling asleep faster and improving sleep quality. Additionally, the benefits of meditation for anxiety include reducing stress and promoting a sense of calm, which can also contribute to better sleep.
Can meditation worsen anxiety symptoms initially before providing relief?
Yes, initially meditation can worsen anxiety symptoms as it brings awareness to our thoughts and emotions. However, with consistent practice, meditation helps reduce anxiety by building brain functions and promoting relaxation. Meditation also provides numerous benefits for sleep and anxiety, such as improved sleep quality and reduced stress.
Is there a recommended time of day to practice meditation for optimal sleep and anxiety reduction?
There is no one-size-fits-all answer to the recommended time of day for meditation. However, practicing meditation in the evening can promote relaxation and better sleep, while morning meditation can set a positive tone for the day and reduce anxiety. Find what works best for you to optimize the benefits.
Conclusion
In conclusion, meditation truly is a natural solution for sleep and anxiety. By practicing meditation, we can experience a multitude of benefits for our mental health. These benefits include reduced stress and anxiety, improved sleep quality, and enhanced overall wellbeing.
Through various techniques such as focused attention and relaxation exercises, we can harness the power of meditation to find peace and tranquility in our lives.
So why not give it a try? You may just find that meditation and its positive effects coincide perfectly with your journey towards a healthier and happier life.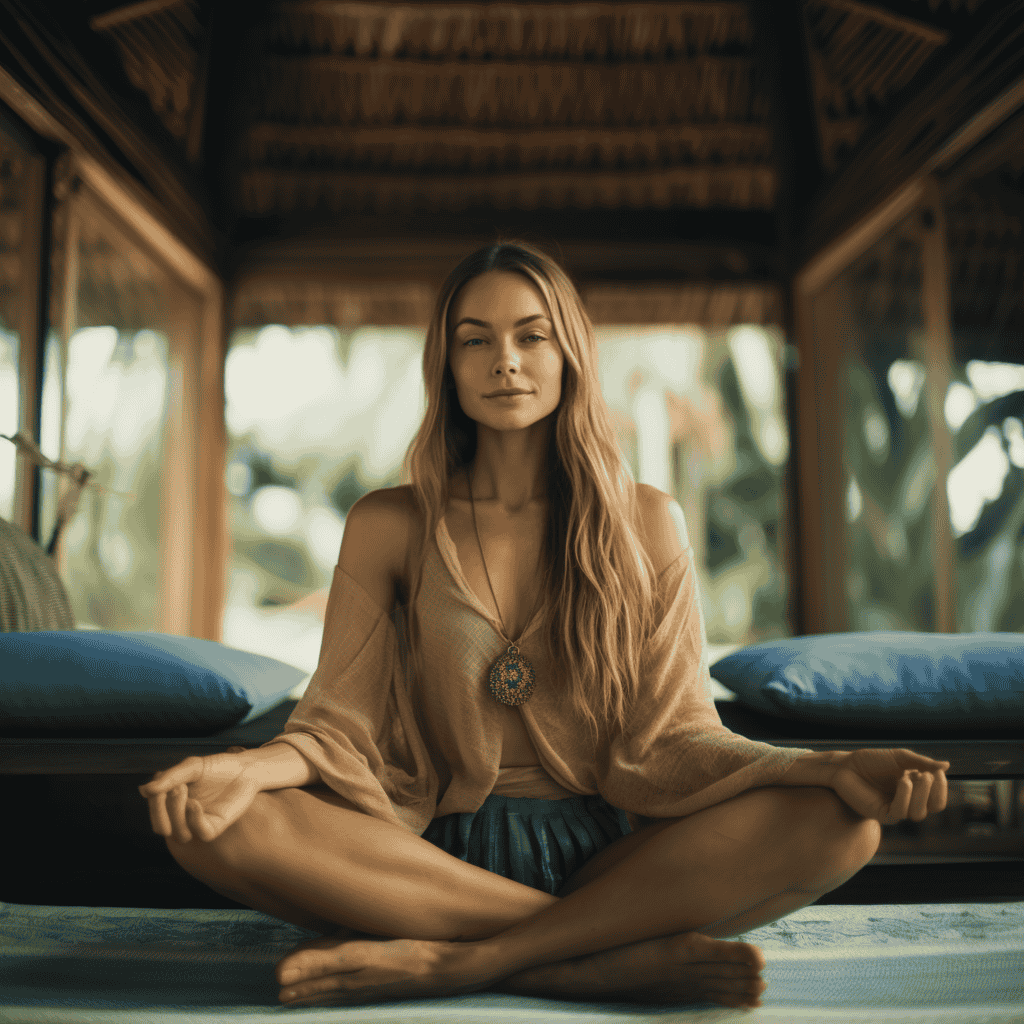 Meet Kiran, the guiding light of wisdom behind the empowering content at OurMindAndBody.com. As a talented and compassionate writer, Kiran weaves words with grace and insight, sharing profound knowledge and practical advice to inspire positive transformations in the lives of readers.
With a background in psychology and a deep-rooted passion for well-being, Kiran brings a unique blend of expertise and empathy to her writing. Her journey into the realm of mindfulness, meditation, and yoga began as a personal quest for self-discovery and healing. Having experienced the profound benefits of these practices firsthand, Kiran is committed to empowering others to embark on their own journeys of self-exploration and growth.