Are your little ones feeling overwhelmed, stressed, or scattered?
Imagine a magical practice that can help them relax like a sleepy sloth, focus like a wise owl, create like an imaginative artist, and thrive like a superhero!
Well, look no further, because guided meditation for kids is here to save the day! This incredible practice uses fun and engaging techniques to help children unwind, stay present, and tap into their amazing potential.
Get ready to embark on a calming journey that will leave your kids feeling empowered, centered, and ready to conquer the world!
Key Takeaways
Guided meditation for kids has numerous benefits and can have a positive impact on their well-being.
Teaching kids mindfulness is important and guided meditation can be a powerful tool in achieving this.
Practicing guided meditation involves finding a quiet place, focusing on breath, using recordings or scripts, and enjoying the calming journey.
Engaging children in guided meditation can be done through the use of colorful visuals, interactive activities, making it a game or challenge, and encouraging family participation.
What is it?
Guided meditation for kids is a special way to practice mindfulness. It's important because it helps us relax and focus. When we do guided meditation, we learn techniques to pay attention to our breathing and our bodies. We also use our imagination to visualize peaceful and happy things. This helps us calm down and feel better.
Guided meditation is like a special tool that we can use when we feel stressed or worried. It teaches us how to be aware of our feelings and how to take care of ourselves. By practicing guided meditation regularly, we become better at relaxing and focusing.
So, it's really important for us to learn and use these techniques to help us feel good and thrive!
Benefits
One of the benefits of practicing guided meditation with children is that it helps them become more self-aware and improves their overall well-being. When kids practice guided meditation, they learn to pay attention to their thoughts, feelings, and sensations in their body. This helps them understand themselves better and make healthier choices. Guided meditation also reduces anxiety and stress, which can have a positive impact on their academic performance.
Check out the table below to see how guided meditation can benefit kids:
Benefits of Guided Meditation for Kids
Improved academic performance
Reduced anxiety and stress
Increased relaxation
Improved focus
Increased creativity
By practicing guided meditation, children can feel more relaxed, focused, and creative. It's a wonderful tool that can help them thrive in all areas of their lives. So, why not give it a try and see the amazing benefits for yourself?
Steps for Practicing
I find it helpful to find a quiet place when practicing guided meditation with children. It creates a peaceful atmosphere where they can fully immerse themselves in the practice.
Once we're settled in our quiet spot, we begin by focusing on our breath. Taking deep breaths in and out helps us relax and bring our attention to the present moment.
To make our guided meditation sessions even more enjoyable, I like to use recordings or write scripts. This way, we can follow along with someone guiding us through the meditation. It helps us stay focused and engaged.
Sometimes, we even create our own scripts and take turns being the guide! It's a fun way to be creative and explore different ways to relax and find inner peace.
So, find a cozy spot, take a deep breath, and let the guided meditation take you on a calming journey.
Tips for Engagement
To make the guided meditation sessions more enjoyable for children, it's important to incorporate visual elements and interactive activities to keep them engaged.
Making meditation fun is key to helping kids relax, focus, create, and thrive! One way to do this is by using colorful visuals, like pictures or videos, that can help children imagine themselves in peaceful and calming scenes.
Another idea is to make the meditation session interactive by encouraging kids to participate in movements or gestures that go along with the meditation. Turning it into a game or challenge can also make it exciting and enjoyable.
Lastly, don't forget to engage the whole family! Encourage parents or siblings to join in on the meditation session, creating a supportive and bonding experience for everyone.
Importance
Engaging in guided meditation allows for the development of self-awareness and promotes overall well-being in children. Teaching kids mindfulness is incredibly important because it helps them understand and manage their emotions, reduces stress, and improves their ability to focus and concentrate.
Guided meditation has a profound impact on children's well-being. It teaches them how to relax, be present, and cope with stress and pressure. By practicing guided meditation regularly, kids can learn to embrace their emotions and develop a sense of inner calm. This practice also helps them thrive by boosting their creativity and enhancing their ability to think outside the box.
Guided meditation is a powerful tool that equips children with essential life skills, allowing them to navigate through life with confidence and resilience.
Frequently Asked Questions
Are there any age restrictions for practicing guided meditation with kids?
Age appropriateness for guided meditation with kids varies, but it can be beneficial for children of all ages. Guided meditation helps kids relax, focus, and be more mindful, improving their overall well-being. Give it a try and see how it helps your child!
Can guided meditation help with behavioral issues in children?
Yes, guided meditation can help with behavioral issues in children. It promotes emotional well-being and helps children understand their emotions better. It teaches relaxation techniques and helps them cope with stress and pressure.
Is it necessary to use a recording or write a script for guided meditation with kids?
Using a recording or writing a script for guided meditation with kids is not necessary, but it can be helpful. It provides structure and guidance, making the practice more engaging. It also allows kids to follow along easily and reap the benefits of guided meditation.
How long should a guided meditation session be for kids?
A guided meditation session for kids should be kept short, around 5-10 minutes, to maintain their interest and focus. Short sessions still provide benefits like relaxation, improved focus, and emotional awareness.
Can guided meditation be used as a tool for academic performance improvement in children?
Yes, guided meditation can be a helpful tool for improving academic performance in children. It has been shown to provide academic benefits and support cognitive development by enhancing focus, concentration, and memory skills.
Conclusion
So, my friends, we've reached the end of our journey into the world of guided meditation for kids. I hope you've enjoyed this magical adventure as much as I have!
Remember, meditation is like a superpower that helps us relax, focus, and create amazing things in our minds. It's like a secret treasure chest that holds all the keys to our happiness and well-being.
So, whenever you're feeling stressed or overwhelmed, just close your eyes, take a deep breath, and let your imagination take you to a peaceful and magical place.
Keep practicing, my fellow adventurers, and watch as you thrive and shine like the brightest stars in the sky!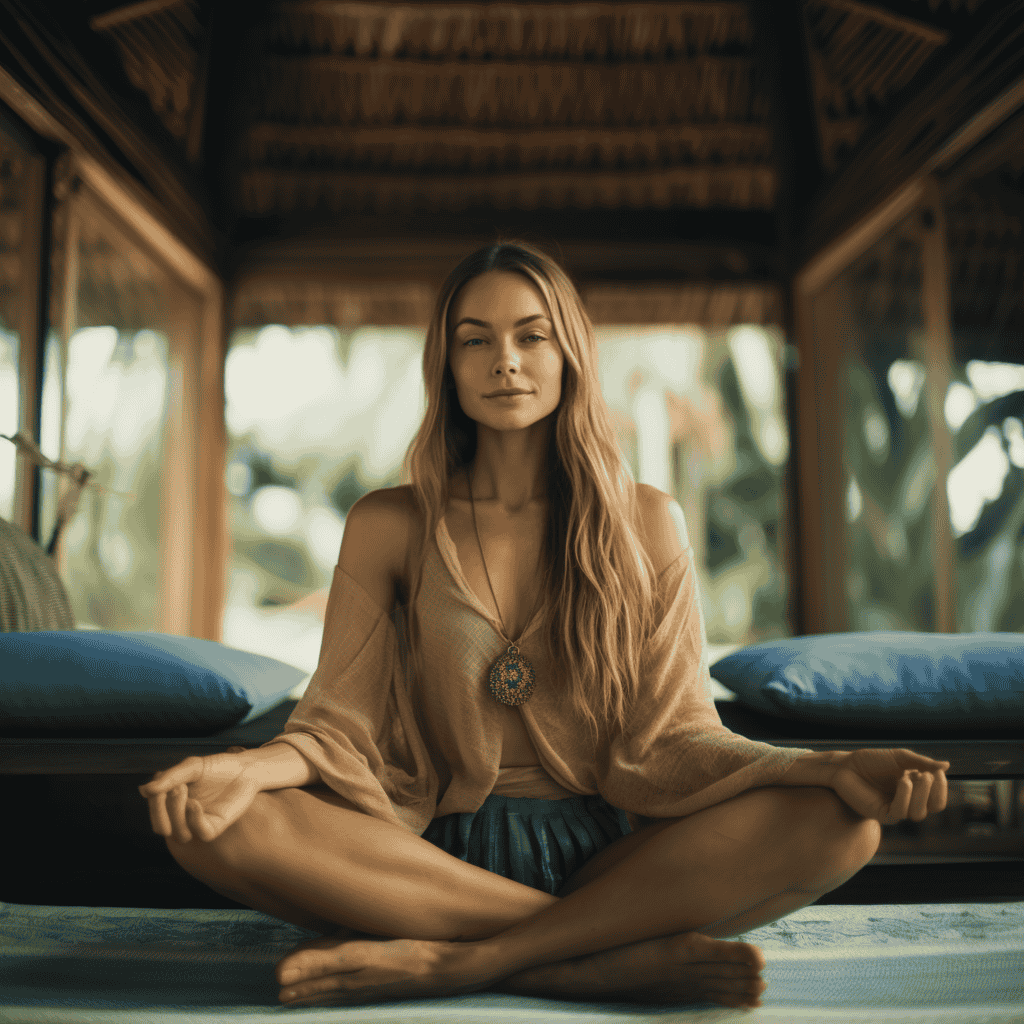 Meet Kiran, the guiding light of wisdom behind the empowering content at OurMindAndBody.com. As a talented and compassionate writer, Kiran weaves words with grace and insight, sharing profound knowledge and practical advice to inspire positive transformations in the lives of readers.
With a background in psychology and a deep-rooted passion for well-being, Kiran brings a unique blend of expertise and empathy to her writing. Her journey into the realm of mindfulness, meditation, and yoga began as a personal quest for self-discovery and healing. Having experienced the profound benefits of these practices firsthand, Kiran is committed to empowering others to embark on their own journeys of self-exploration and growth.