Are you yearning for a deeper sense of purpose and meaning in life?
Well, look no further! I'm here to guide you on a transformative journey towards deepening your spiritual connection.
Picture this: imagine unlocking a world of inner peace, profound self-discovery, and a genuine connection with others and the world around you.
By incorporating simple yet powerful practices into your daily life, you can cultivate a more meaningful existence and become the best version of yourself.
So, are you ready to embark on this extraordinary adventure? Let's dive in!
Key Takeaways
Strengthening bonds with active listening, empathy, and compassion
Finding common ground to build bridges in relationships
Immersing oneself in the natural world for spiritual enhancement
Practicing forgiveness for emotional liberation
What is Spirituality?
I understand that spirituality is a multidimensional construct that varies based on beliefs, practices, and experiences, encompassing the exploration of my inner self, connection with a higher power, and living a meaningful life.
The essence of spirituality lies in the recognition that there is more to life than what meets the eye. It is a journey of self-discovery, where I delve deep into my inner being to understand my purpose and find a sense of fulfillment.
Spirituality allows me to connect with a higher power, whether it be through prayer, meditation, or simply being present in the moment. It is a reminder that there is a greater force at play, guiding and supporting me on my path.
Through spirituality, I cultivate a sense of meaning and purpose, embracing the beauty and interconnectedness of all living beings. It is a journey of continuous growth and self-transformation, where I strive to align my thoughts, words, and actions with my truest self.
Importance and Benefits
Strengthening bonds with active listening, empathy, and compassion enhances one's overall well-being and contributes to a deeper sense of fulfillment in life. The benefits of a spiritual connection go beyond just finding meaning and purpose. It has a profound impact on our well-being, both mentally and physically.
Inner Peace: Through spirituality, we can find inner peace and tranquility amidst the chaos of everyday life. It helps to calm our minds and reduce stress, leading to improved mental health.

Emotional Resilience: Spirituality provides us with the strength to navigate through challenging situations and cope with emotions. It helps us develop a greater understanding of ourselves and others, fostering empathy and compassion.

Improved Relationships: When we deepen our spiritual connection, we become more attuned to the needs and feelings of those around us. This leads to stronger and more meaningful relationships, filled with love, understanding, and support.
By cultivating a spiritual connection, we not only enhance our own well-being but also create a ripple effect of positivity in the world around us. It is a journey of self-discovery and growth that brings immense joy and fulfillment.
Practices for Deepening
Immersing myself in nature and practicing mindfulness allows for a greater sense of spiritual growth and fulfillment. Mindful practices help me to fully engage with the present moment, embracing the beauty and serenity that surrounds me.
As I walk through the woods, I feel a deep connection to the earth beneath my feet and the gentle breeze that caresses my skin. Each step becomes a meditation, grounding me and opening my heart to the wonders of the natural world.
Immersive experiences in nature awaken a sense of awe and gratitude within me, reminding me of the interconnectedness of all living beings. Through these practices, I am able to cultivate a deeper understanding of myself and my place in the world, finding meaning and purpose in every breath.
Frequently Asked Questions
Can spirituality be practiced without any religious beliefs or affiliations?
Yes, spirituality can be practiced without religious beliefs. Secular spirituality allows for exploring non-religious paths to spiritual connection. It focuses on finding inner peace and cultivating spirituality as a source of personal fulfillment.
How can one incorporate spirituality into their busy daily life?
Incorporating spirituality into my busy daily life is possible by practicing mindful meditation and taking nature walks. These activities help me find moments of peace and connection, bringing a deeper sense of meaning and purpose to my day.
Are there any scientific studies supporting the benefits of spirituality on mental and physical health?
Scientific evidence supports the benefits of spirituality on mental and physical health. The mind-body connection is strengthened through spiritual practices, leading to improved well-being, lower stress levels, enhanced immune function, and overall better health outcomes.
Can spirituality help in overcoming feelings of loneliness or isolation?
Spirituality can indeed help overcome loneliness and isolation. By enhancing social connections, finding inner peace, and fostering empathy, it brings people together and helps us feel more connected, supported, and understood.
Are there any specific rituals or practices that can help deepen one's spiritual connection?
Spiritual meditation and daily affirmations are powerful practices to deepen one's spiritual connection. They provide a sense of peace, clarity, and connection with the divine, helping us cultivate meaning and purpose in our lives.
Conclusion
In conclusion, deepening my spiritual connection has been a transformative journey.
Through practices like meditation, gratitude, and self-reflection, I have cultivated a profound sense of meaning and purpose in my life.
While some may argue that spirituality is subjective or unimportant, I believe that it is essential for personal growth and overall well-being.
By connecting with myself, others, and the world around me, I have become more empathetic, compassionate, and connected to something greater than myself.
This spiritual journey has not only brought me inner peace and fulfillment, but it has also made me a better citizen of society, spreading positivity and love wherever I go.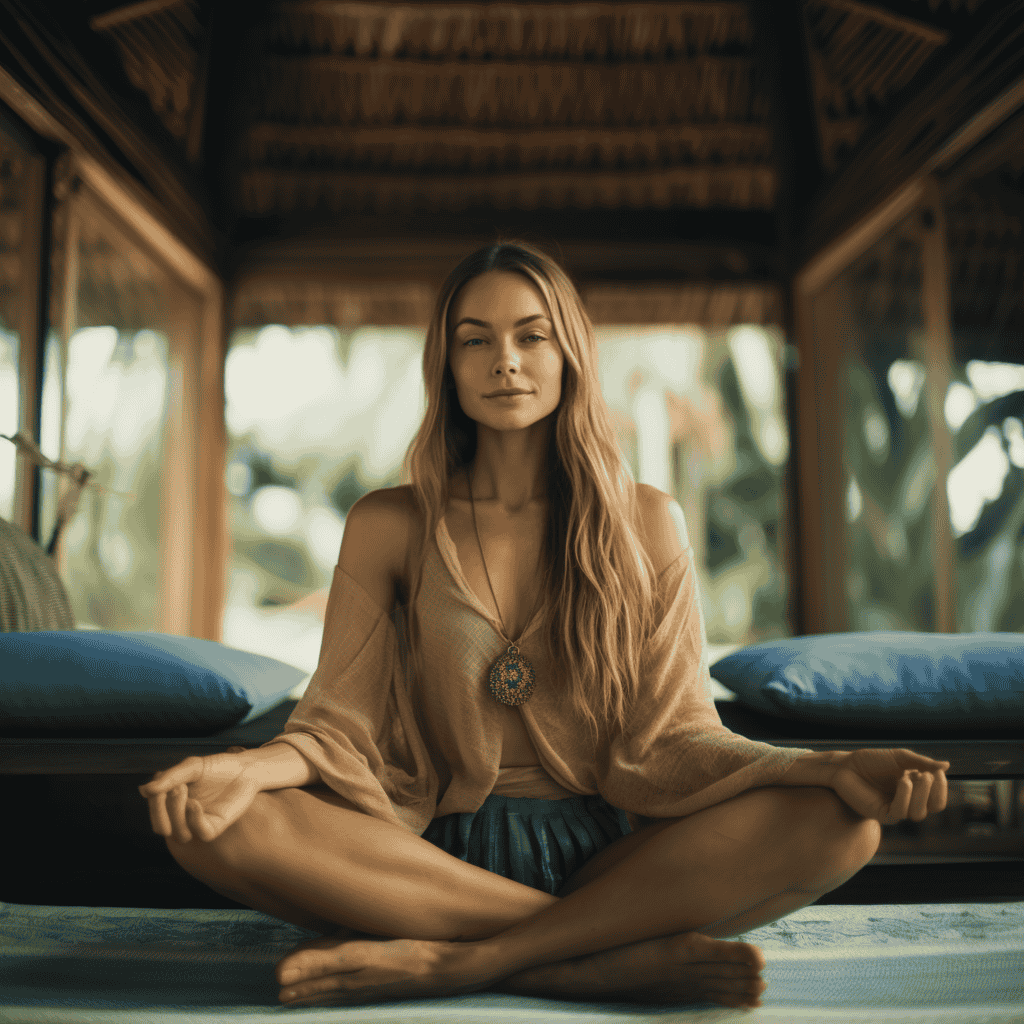 Meet Kiran, the guiding light of wisdom behind the empowering content at OurMindAndBody.com. As a talented and compassionate writer, Kiran weaves words with grace and insight, sharing profound knowledge and practical advice to inspire positive transformations in the lives of readers.
With a background in psychology and a deep-rooted passion for well-being, Kiran brings a unique blend of expertise and empathy to her writing. Her journey into the realm of mindfulness, meditation, and yoga began as a personal quest for self-discovery and healing. Having experienced the profound benefits of these practices firsthand, Kiran is committed to empowering others to embark on their own journeys of self-exploration and growth.