Imagine a moment of pure tranquility, where the weight of the world melts away and you find complete harmony with your partner. This is the power of couples meditation, a practice that not only brings peace to your mind, but also strengthens the bond between you and your loved one.
In this article, I will guide you through the process of creating a blissful couples meditation routine, sharing techniques, tips, and the incredible benefits that await you on this journey of togetherness.
Get ready to embark on a path of deeper connection and profound serenity with your partner.
Key Takeaways
Find a quiet and comfortable space for meditation
Set a regular time for meditation to establish a routine
Use reminders and prioritize meditation as a habit
Explore different techniques together to enhance the bond and connection
Why Couples Meditation?
Couples meditation is important because it improves communication, deepens connection, increases intimacy, reduces stress and anxiety, and improves sleep. Taking the time to meditate together can have a profound impact on your relationship.
Not only does it provide a space for open and honest communication, but it also allows you to truly connect with your partner on a deeper level.
To practice couples meditation at home, find a quiet and comfortable space where you can both sit or lie down. Set a regular time for your meditation practice, and make sure to eliminate any distractions. Close your eyes and focus on your breath, allowing yourself to relax and let go of any tension or stress.
By practicing couples meditation regularly, you can experience the benefits firsthand. It can help you both manage stress and anxiety, as well as improve your overall sleep quality.
Couples meditation is a powerful tool that can enhance your relationship and create a blissful and peaceful atmosphere in your home.
Getting Started
To begin, I need to find a quiet and comfortable space for my meditation practice. It could be a dedicated room, a cozy corner, or even outside in nature. The key is to create an environment that feels peaceful and allows me to fully relax.
Once I have my space, I can start exploring different meditation techniques to find the one that resonates with me and my partner. There are various options like guided meditation, loving-kindness meditation, or even engaging in a shared activity like yoga. It's important to remember that every couple is unique, so finding the right technique may take some trial and error.
Along the way, there may be common challenges like distractions or difficulty focusing. But with patience, practice, and open communication, we can overcome these obstacles and create a blissful couples meditation routine.
Establishing a Routine
Once I have found a comfortable space, I can begin establishing a regular meditation practice. Building consistency is key when it comes to couples meditation. It's important to set a regular time for meditation and stick to it. This will help both partners to prioritize their practice and make it a habit. However, it's normal to face obstacles along the way. Life can get busy and it may be challenging to find the time or motivation to meditate. In order to overcome these obstacles, it's helpful to set reminders and choose a convenient time that works for both partners. Additionally, finding a comfortable space where you can relax and focus is essential. By being patient and supportive with each other, you can overcome any challenges and create a blissful couples meditation routine.
| Building Consistency | Overcoming Obstacles | Benefits of a Routine |
| --- | --- | --- |
| Set a regular time | Life getting busy | Prioritize meditation |
| Use reminders | Lack of motivation | Establish a habit |
| Find a convenient time | Finding a comfortable space | Strengthen the bond |
Techniques for Couples Meditation
When practicing meditation with my partner, we can explore various techniques to enhance our experience and deepen our connection.
One technique we can try is guided meditation, which involves listening to a recorded meditation that guides us through the practice. This can be especially helpful for beginners or when we want some extra guidance and structure.
Another technique we can incorporate is loving-kindness meditation, where we focus on generating feelings of love, compassion, and kindness towards ourselves and our partner. This practice can help us cultivate a sense of deep care and appreciation for each other.
By exploring these techniques together, we can create a blissful couples meditation routine that strengthens our bond and allows us to experience a greater sense of peace and happiness in our relationship.
Benefits and Relationship Enhancement
Exploring different meditation techniques with my partner enhances our relationship and brings numerous benefits. It's amazing how incorporating mindfulness into our everyday activities has deepened our connection and improved our communication. We have discovered that even simple tasks like cooking or going for a walk can become opportunities for meditation and bonding. By being fully present in these moments, we have learned to appreciate each other more and find joy in the little things.
Of course, like any practice, couples meditation also comes with its challenges. We have faced distractions, restlessness, and difficulty finding the time to meditate together. However, we have found ways to overcome these obstacles. Setting aside dedicated time each day, creating a peaceful space, and using guided meditations have all helped us stay on track. It's important to remember that patience and support are key.
Through regular practice, we have strengthened our bond and created a blissful meditation routine that continues to bring us closer.
Frequently Asked Questions
Can couples meditate together if they have different levels of experience?
Yes, couples can meditate together even if they have different levels of experience. It's important to find meditation techniques that work for both partners and to be patient and supportive. This can greatly benefit relationship harmony.
Is it necessary for couples to meditate at the same time for it to be effective?
No, it's not necessary for couples to meditate at the same time for it to be effective. Solo meditation can still benefit the relationship by reducing stress and increasing self-awareness. Different meditation techniques can be explored together to find what works best for both partners.
Can couples meditate even if they have busy schedules?
Finding time for meditation in a busy schedule can be challenging, but it's possible. Prioritize meditation by scheduling it like any other important task. Balancing experience levels can be done by adapting techniques and being supportive of each other's journey.
How long should couples meditate for each session?
The ideal meditation duration for couples is around 15-30 minutes per session. Longer meditation sessions can provide deeper relaxation, increased self-awareness, and a stronger sense of connection. However, start with shorter sessions and gradually increase the time as you both feel comfortable.
Are there any specific poses or positions that couples should use during meditation?
Yes, there are specific poses and recommended positions that couples can use during meditation. Sitting cross-legged facing each other or side by side, or even lying down together can be effective techniques. These positions help create a peaceful atmosphere and enhance the benefits of couples meditation.
Conclusion
In conclusion, creating a blissful couples meditation routine is a wonderful way to enhance your relationship and bring more peace and connection into your lives.
By establishing a regular practice and incorporating techniques such as guided meditation and loving-kindness meditation, you can deepen your bond and improve communication.
Remember to be patient and start small, finding a quiet and comfortable space that works for both of you.
The benefits of couples meditation, including increased intimacy and reduced stress, are well worth the effort.
So, why not embark on this journey together and experience the joy and harmony that couples meditation can bring?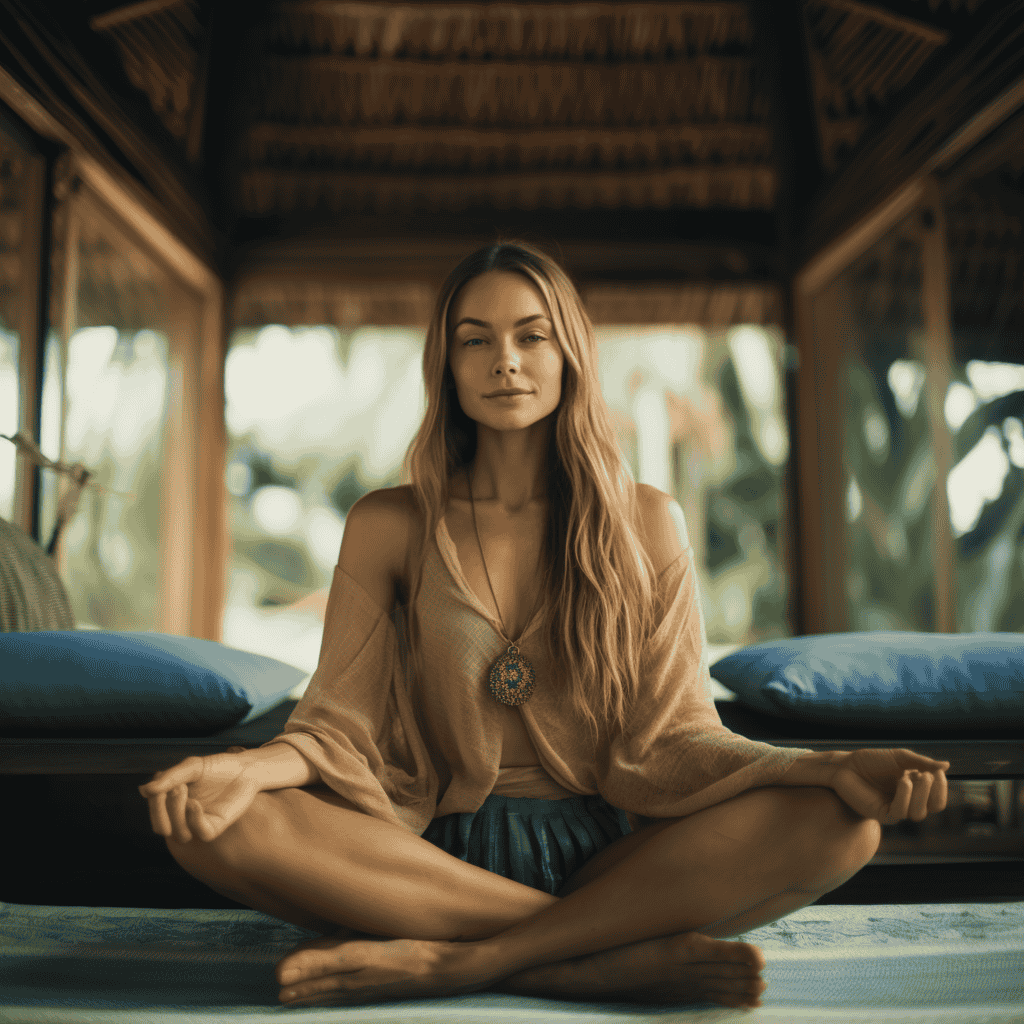 Meet Kiran, the guiding light of wisdom behind the empowering content at OurMindAndBody.com. As a talented and compassionate writer, Kiran weaves words with grace and insight, sharing profound knowledge and practical advice to inspire positive transformations in the lives of readers.
With a background in psychology and a deep-rooted passion for well-being, Kiran brings a unique blend of expertise and empathy to her writing. Her journey into the realm of mindfulness, meditation, and yoga began as a personal quest for self-discovery and healing. Having experienced the profound benefits of these practices firsthand, Kiran is committed to empowering others to embark on their own journeys of self-exploration and growth.