When it comes to finding the perfect affordable yoga mat, the saying 'you get what you pay for' often rings true. However, with some careful consideration and research, it is possible to find a mat that ticks all the boxes without breaking the bank.
In this article, I will guide you through the factors to consider when choosing a yoga mat, including cleaning and maintenance, material, thickness, size, and price.
So, let's dive in and find the perfect yoga mat that fits both your budget and your practice.
Key Takeaways
Material: Choose an eco-friendly mat made from sustainable materials to reduce environmental impact.
Price: Find a yoga mat that fits your budget without compromising on quality.
Size: Consider the standard size of 68 inches long and 24 inches wide, but choose a longer or wider mat if needed for your practice.
Cleaning and Maintenance: Regularly clean and maintain your yoga mat using gentle cleaners and proper drying techniques for longevity and hygiene.
What to Consider
When choosing the perfect affordable yoga mat, I need to consider factors such as material, thickness, size, and price.
One advantage of eco-friendly yoga mats is that they are made from sustainable materials, reducing their impact on the environment. These mats are often free from harmful chemicals, making them a healthier choice for both the user and the planet.
When it comes to size, it's important to choose a mat that accommodates your practice and lifestyle. A standard size mat is usually around 68 inches long and 24 inches wide, but taller individuals may prefer a longer mat. Additionally, if you tend to move around a lot during your practice, a wider mat may provide more space.
Considering these tips for choosing the right yoga mat size will help ensure a comfortable and enjoyable practice.
Cleaning and Maintenance
To ensure the longevity and cleanliness of my yoga mat, I regularly clean and maintain it according to the manufacturer's instructions.
Proper cleaning is essential to remove sweat, dirt, and bacteria that can accumulate during practice.
I start by wiping down my mat with a damp cloth after each use to remove surface dirt.
For a deeper clean, I use a gentle yoga mat cleaner and a soft brush to scrub away any stubborn stains.
It's important to avoid using harsh chemicals or abrasive scrubbers, as they can damage the mat's surface.
Additionally, I make sure to let my mat air dry completely before rolling it up for storage.
Regular maintenance not only keeps my mat in good condition, but also ensures a hygienic and enjoyable practice.
Yoga Mat Toppers
I personally find yoga mat toppers to be a great addition to my practice as they provide extra cushioning and support. They have several advantages:
Enhanced Comfort: Yoga mat toppers offer additional padding, making poses more comfortable and reducing stress on joints.
Increased Stability: The added thickness of a topper helps improve stability during balancing poses, providing a more secure foundation.
Hygiene: Toppers can act as a barrier between your body and the mat, preventing direct contact with sweat and minimizing the accumulation of bacteria.
Versatility: Toppers can be easily rolled up and carried, allowing you to practice yoga anywhere without the need for a bulky mat.
Personalization: Toppers come in various colors and patterns, allowing you to personalize your practice and express your individual style.
However, there are a few disadvantages to consider:
Cost: Adding a topper can increase the overall cost of your yoga equipment.
Maintenance: Toppers may require more frequent cleaning compared to regular mats.
Compatibility: Not all toppers are compatible with every mat, so it's important to ensure a proper fit before purchasing.
Overall, yoga mat toppers can be a beneficial addition to your practice, offering extra comfort, stability, and personalization options.
Best for Beginners
For beginners, it's important to invest in a mat that provides adequate cushioning and support to enhance comfort and ensure a balanced practice. When choosing a yoga mat, there are a few brands that are known for their quality and affordability. Some popular brands include Liforme, Manduka, and Gaiam. These brands offer a range of mat options that cater to different preferences and needs.
In terms of thickness, beginners may find it beneficial to choose a mat that is on the thicker side. A mat with a thickness of around 6mm to 8mm can provide extra cushioning and support, making it more comfortable for beginners who may not have built up as much strength or flexibility yet. However, it's important to find a balance between comfort and stability. A mat that is too thick may make it difficult to maintain balance in certain poses. It's always a good idea to try out different mats and see what feels best for you.
Related Posts
When it comes to finding the best options for Pilates mats in 2022, it can be helpful to explore different brands and materials available.
Some top choices include the Liforme Yoga Mat, known for its excellent grip and durability, the Manduka Pro Yoga Mat, which offers great cushioning and support, and the Gaiam Essentials Thick Yoga Mat, a budget-friendly option with a non-slip surface.
These mats are designed to provide comfort and stability during Pilates workouts, helping you achieve proper alignment and prevent injuries.
Additionally, if you're looking to film your yoga sessions, it's important to invest in a good camera for yoga videos.
Some popular choices include the Sony Alpha a6400, the Canon EOS M50 Mark II, and the GoPro Hero9 Black.
These cameras offer high-quality video recording capabilities and features that are ideal for capturing your yoga practice.
Frequently Asked Questions
Can I use a regular towel or blanket as a yoga mat topper?
Yes, a regular towel or blanket can be used as a yoga mat topper. It can provide extra cushioning and support during practice. However, it may not offer the same stability and grip as a dedicated yoga mat topper.
How often should I replace my yoga mat?
I typically replace my yoga mat every 1-2 years, depending on usage. Signs of a worn out yoga mat include visible wear and tear, loss of cushioning, and a slippery surface. It's important to prioritize safety and comfort during practice.
Are there any specific cleaning products I should avoid using on my yoga mat?
When it comes to yoga mat maintenance, it's important to avoid using harsh cleaning products that could damage the mat. Instead, opt for natural alternatives like a mixture of water and vinegar or a mild soap solution. These will effectively clean your mat without causing any harm.
Can I use my yoga mat outdoors?
Yes, you can use your yoga mat outdoors. There are outdoor yoga mat options available that are designed to withstand various surfaces and weather conditions. Practicing yoga outdoors offers benefits such as fresh air, connection with nature, and a change of scenery.
Is it necessary to use a yoga mat cleaner or can I just use water and soap to clean it?
It is not necessary to use a yoga mat cleaner. Instead, you can clean your yoga mat with water and soap. Alternatively, you can use homemade solutions like a mixture of water, vinegar, and essential oils.
Conclusion
In conclusion, choosing the perfect affordable yoga mat requires careful consideration of various factors.
Regularly cleaning and maintaining the mat is essential for its longevity and hygiene.
Researching different materials and selecting a thickness that offers comfort and stability is important.
Size requirements and price should also be taken into account.
For added cushioning and support, a yoga mat topper can be beneficial.
Beginners should invest in an affordable mat with adequate cushioning and durability.
Finally, one interesting statistic to note is that the average price range for affordable yoga mats is between $20 to $40.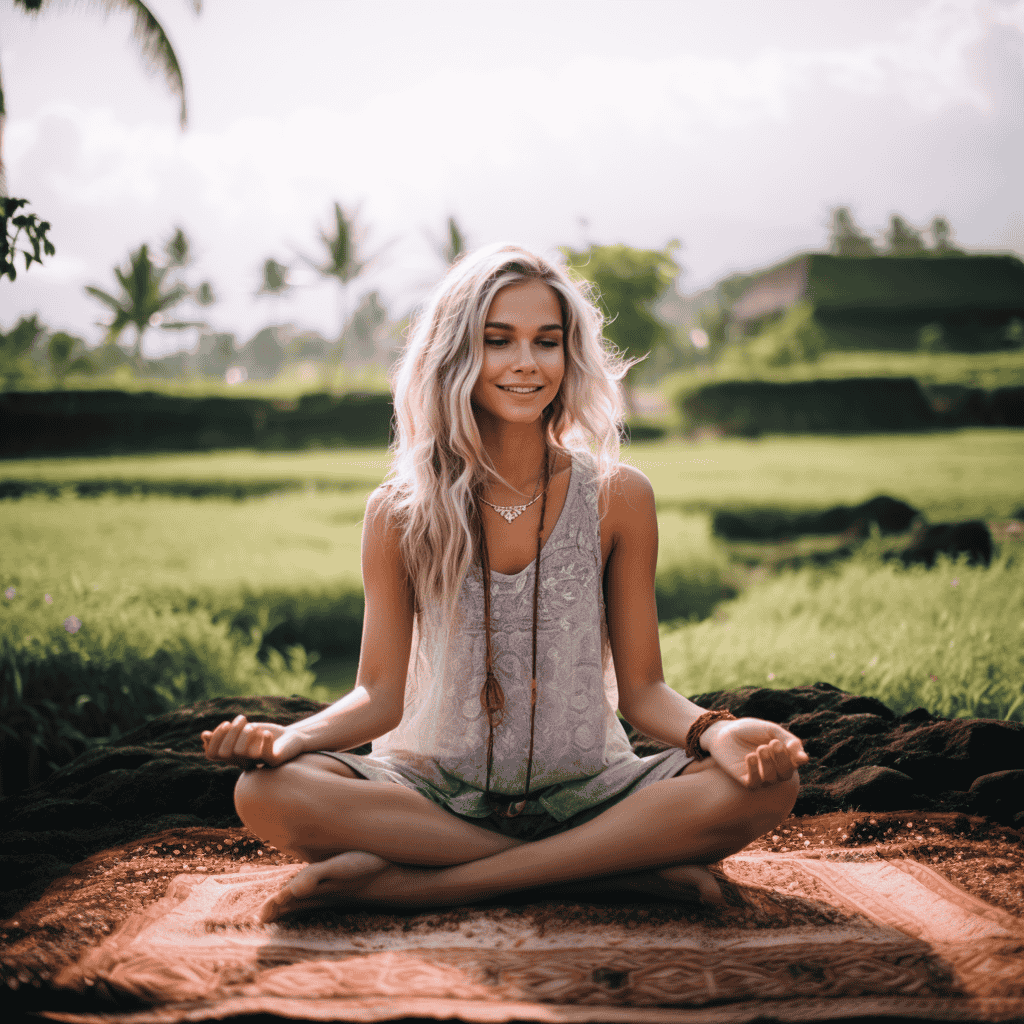 Meet Nadi, the soulful writer and explorer of inner realms who graces OurMindAndBody.com with her profound insights and heartfelt wisdom. With a profound passion for mindfulness, meditation, and spiritual growth, Nadi weaves words that touch the hearts and minds of readers, leaving a lasting impact on their well-being journey.
Rooted in a background of philosophy and psychology, Nadi's curiosity about the human mind and the mysteries of the soul led her on a transformative path of self-discovery. Drawn to the transformative power of mindfulness and meditation, she embarked on a quest to understand the intricacies of these practices, not only for her own growth but also to inspire others to embark on their own inner journeys.