Did you know that approximately 3 million Americans suffer from panic attacks each year? If you're one of them, you're not alone. The good news is that there are effective strategies to help you calm those overwhelming moments of panic.
In this article, we'll explore how meditation and breathwork can be powerful tools in managing panic attacks. By creating a connection with panic and utilizing techniques like focusing on a stationary object, practicing deep breathing, and incorporating affirmations, you can find relief and restore a sense of calm.
Let's dive in and discover how you can calm panic attacks with meditation and breathwork.
Key Takeaways
Approximately 3 million Americans suffer from panic attacks each year.
Techniques such as grounding, deep breathing, and progressive muscle relaxation can help calm panic attacks.
Regular meditation brings numerous benefits to overall well-being, including mental clarity, stress reduction, and enhanced self-awareness.
Meditation can also improve concentration, focus, and productivity, while promoting emotional stability and decision-making skills.
How to Calm Down
I can calm down from a panic attack by acknowledging my panic, focusing on a stationary object, and relaxing my body through breathing.
When I feel a panic attack coming on, I take a moment to acknowledge my panic and remind myself that it is just a passing feeling.
Then, I find a stationary object, like a chair or a wall, and focus all of my attention on it. This helps to ground me and redirect my thoughts away from the panic.
Next, I practice deep breathing exercises to relax my body. I take slow, deep breaths in through my nose and out through my mouth, focusing on the sensation of the breath filling and leaving my lungs.
These relaxation techniques help me to calm my mind and body during a panic attack.
Strategies for Relaxation
Using deep breathing techniques and incorporating mindfulness exercises can help to promote relaxation and reduce feelings of anxiety and stress. These strategies are effective in calming panic attacks and bringing a sense of calm to the body and mind.
Deep breathing techniques, such as diaphragmatic breathing, can help to activate the body's relaxation response and decrease the intensity of panic symptoms. By focusing on slow, deep breaths, you can bring more oxygen into your body and slow down your heart rate.
Progressive muscle relaxation is another technique that can be helpful in promoting relaxation during a panic attack. This involves tensing and then releasing different muscle groups in the body, promoting a sense of physical relaxation.
By incorporating these techniques into your routine, you can learn to manage and calm panic attacks, allowing yourself to regain control and find a sense of peace and tranquility.
Benefits of Meditation
Incorporating regular meditation into my routine has brought numerous benefits to my overall well-being and mental clarity. Meditation is not just about sitting in silence, it is a powerful tool that can improve mental well-being in various ways. One of the key benefits of regular meditation practice is its ability to reduce stress and anxiety. By focusing on our breath and being present in the moment, we can calm our racing thoughts and find a sense of inner peace. Additionally, meditation can enhance our self-awareness and provide a deeper understanding of our thoughts and emotions. This self-reflection allows us to manage our emotions more effectively and make better decisions. Furthermore, regular meditation can improve our concentration and focus, enabling us to be more productive and present in our daily lives. Overall, incorporating meditation into our daily routine can have profound effects on our mental well-being, leading to a more balanced and fulfilling life.
| Benefits of Regular Meditation Practice | How Meditation Improves Mental Well-being |
| --- | --- |
| Reduces stress and anxiety | Enhances self-awareness |
| Promotes inner peace and calm | Improves emotional management |
| Boosts concentration and focus | Facilitates better decision-making |
| Enhances overall well-being and clarity | Fosters a more balanced and fulfilling life |
Frequently Asked Questions
Can meditation and breathwork completely eliminate panic attacks?
No, meditation and breathwork cannot completely eliminate panic attacks. However, they can be effective tools in managing and reducing the frequency and intensity of panic attacks. These techniques help to calm the mind and body, promoting relaxation and a sense of control.
Are there any specific breathing techniques that are more effective for calming panic attacks?
Breathing exercises play a crucial role in calming panic attacks. One technique that can be particularly effective is alternate nostril breathing. It helps regulate the nervous system and brings a sense of balance and calmness.
How long does it typically take for meditation and breathwork to start reducing the symptoms of a panic attack?
It depends on the individual and their level of practice. However, using breath control techniques during meditation can provide immediate relief by activating the body's relaxation response and reducing the symptoms of a panic attack.
Is it possible to meditate and practice breathwork during a panic attack, or is it better to wait until the symptoms subside?
During a panic attack, it's better to wait for the symptoms to subside before meditating or practicing breathwork. Trying to do so during a panic attack may be challenging and may not provide the full benefits of these practices.
Are there any potential risks or side effects associated with using meditation and breathwork to calm panic attacks?
While meditation and breathwork can be effective in calming panic attacks, it's important to note that there are potential risks and side effects. Timing of relief may vary, and practicing during panic attacks may not always be feasible. It's also helpful to explore alternative methods for managing panic attacks.
Conclusion
In conclusion, meditation and breathwork are powerful tools for managing panic attacks. By acknowledging the panic and redirecting our attention, we can begin to calm ourselves down.
Relaxing the body through breathing exercises and incorporating positive affirmations can further enhance the process.
Meditation, whether through finding a comfortable space or utilizing guided meditations and binaural beats, can bring a sense of calm and tranquility.
These techniques can be beneficial for both adults and children, providing relief and teaching valuable anxiety management skills.
As the adage goes, 'In the midst of chaos, there is also opportunity.' Through meditation and breathwork, we can find the opportunity to regain control and find peace within ourselves.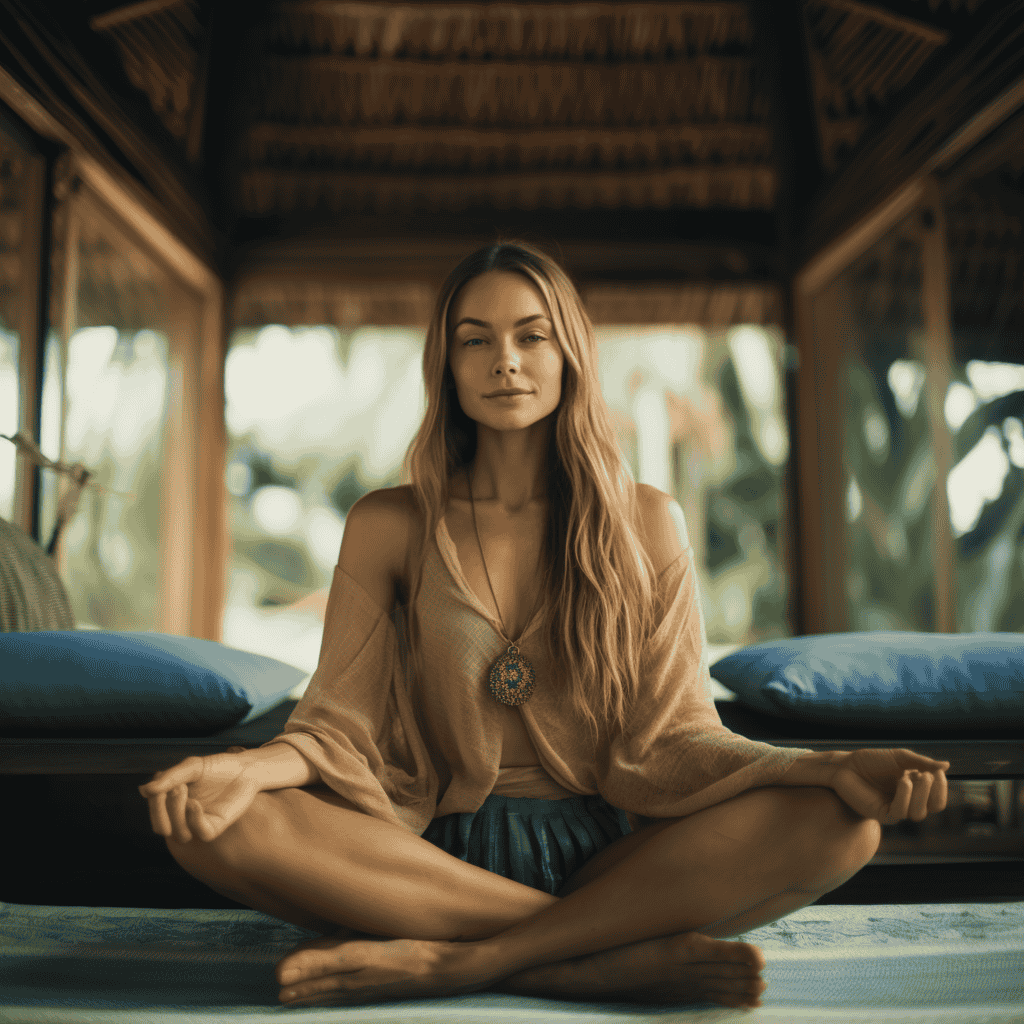 Meet Kiran, the guiding light of wisdom behind the empowering content at OurMindAndBody.com. As a talented and compassionate writer, Kiran weaves words with grace and insight, sharing profound knowledge and practical advice to inspire positive transformations in the lives of readers.
With a background in psychology and a deep-rooted passion for well-being, Kiran brings a unique blend of expertise and empathy to her writing. Her journey into the realm of mindfulness, meditation, and yoga began as a personal quest for self-discovery and healing. Having experienced the profound benefits of these practices firsthand, Kiran is committed to empowering others to embark on their own journeys of self-exploration and growth.